---
alarm_off
The marketplace will be available on Aug 07, 2021 at 11:00 am (GMT-04:00) Eastern Time (US & Canada). Please check back at that time.
Wishfest Art & Craft Vendors
---
1 shop
Wishfest Food Vendors
---
2 shops
Interested in becoming an artist or exhibitor:
2 active applications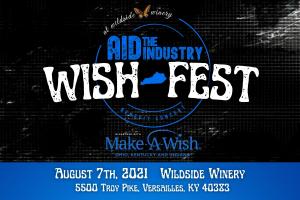 Welcome to the Wishfest! Browse through our applications and let us know if you have any questions. This is an electronic agreement and by selecting the booths, you are validating and approving...
+ More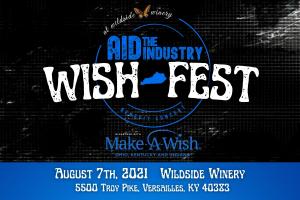 Wishfest Art & Craft Vendors
Welcome to Wishfest 2021! Wildside Winery has partnered with Aid the Industry and the Make a Wish Foundation to create an event that supports local wish kids!
---
event
Dates
Aug 07 11:00 am - Aug 07 11:00 pm
(GMT-04:00) Eastern Time (US & Canada)
location_on
Location
5500 Troy Pike, Versailles, Kentucky 40383, United States
---
Join us August 7th, 2021 at Wildside Winery for our first annual all day music fest, featuring Sundy Best, Justin Wells, Wish Kid Ben, Brother Smith, Laurel Lewis, Trippin Roots, and more many amazing artists! This event will allow Wish Kid Ben to have one of his wish enhancements to come true PLUS provide a great day of entertainment for our guests!
---
event
1 event
location_on
Versailles, Kentucky, United States
---