Cape Coral Art Festival & Market Place
event
Jan 04 9:00 am - Jan 31 5:00 pm


(GMT-04:00) Eastern Time (US & Canada)
label
Virtual
---
---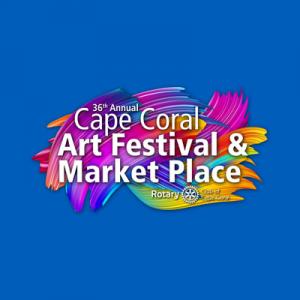 Help the Cape Coral Rotary Foundation meet in 2021 Goals
Last day to contribute: Feb 01, 2021
---
139 artists, shops & exhibitors
alarm_off
The marketplace is not available because the event has ended.
Art Way on the Parkway
---
1 shop
Cape Coral Art Festival
---
2 shops
Cape Coral Marketplace
---
10 shops
Gardenint & Floral
---
1 shop
Graphics/Printmaking
---
2 shops
Painting: Oil/Acrylic
---
18 shops
Painting: Watercolor
---
3 shops
Professional Services
---
4 shops
---
Meet our sponsors:
9 sponsors
---
event
Dates
Jan 04 9:00 am - Jan 31 5:00 pm
(GMT-04:00) Eastern Time (US & Canada)
---
Nov. 13, 2020 After many months of hand-wringing, sleepless nights, and more Zoom meetings than we can count, we have decided that Cape Coral Art Festival & Market Place can not be held in person. Trust us, we are just as disappointed as you are, but know we did not make this decision lightly. Above all else, we want to thank you, our exhibitors, our fans, our partners, and the City of...
+ More
---
event
2 events
location_on
Cape Coral, Florida, United States
The Cape Coral Art Festival & Market Place is produced by the Rotary Club of Cape Coral and is a celebration of national and local fine art and fine crafts. The Cape Coral Marketplace is dedicated to helping local businesses showcase and...
+ More
---