Y Spring Expo
event
Mar 25 9:00 am - Apr 24 9:00 pm


(GMT-04:00) Eastern Time (US & Canada)
label
Virtual
---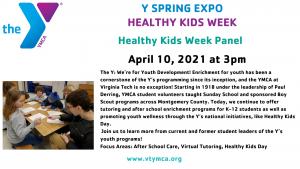 YMCA at VT Alumni Panel Discussion
April 10 at 3pm The Y: We're for Youth Development! Enrichment for youth has been a cornerstone of the Y's programming since its inception, and the YMCA at Virginia Tech is no exception! Starting in 1918 under the leadership of Paul Derring, YMCA student volunteers taught Sunday School and sponsored Boy Scout programs across Montgomery County. Today, we continue to offer tutoring...
+ More
It's not an event without a swag bag! Get your virtual goodies here. New things will be added every week, so be sure to keep coming back!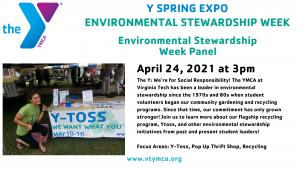 YMCA at VT Alumni Panel Discussion
April 24 at 3pm The Y: We're for Social Responsibility! The YMCA at Virginia Tech has been a leader in environmental stewardship since the 1970s and 80s when student volunteers began our community gardening and recycling programs. Since that time, our commitment has only grown stronger! Join us to learn more about our flagship recycling program, Ytoss, and other environmental stewardship...
+ More
Beloved recipes from the members of the YMCA at Virginia Tech International Women's Group (2018). Featuring family traditional recipes from all over the world. Proceeds from the cookbook sales support the International Programs. Purchase online or stop by Y's Best Boutique at 1000 N. Main St Blacksburg to get your copy!
---
---
Ticket options
Price: Free
---
20 artists, shops & exhibitors
Jewelry- Non-precious metals
---
1 shop
Jewelry- Precious metals
---
4 shops
PAinting-Oil/Acrylic
---
2 shops
Upcycled/Recycled
---
2 shops
---
Meet our sponsors:
7 sponsors
---
event
Dates
Mar 25 9:00 am - Apr 24 9:00 pm
(GMT-04:00) Eastern Time (US & Canada)
---
The YMCA at Virginia Tech is introducing a new event- Y Spring Expo to run from March 25- April 25. The main purpose will be to showcase the many and varied programs provided to the community by the YMCA at Virginia Tech and to feature the excellent child-friendly programs from Virginia Tech, local businesses, and the community. Join us for a month of family fun-filled activities! Our...
+ More
---
event
4 events
location_on
Blacksburg, Virginia, United States
The YMCA at Virginia Tech proudly serves all walks of life in the community through education programs, after-school children's programs, tutoring, international services, our thrift shop, and other community services. The YMCA works with...
+ More
---