ShowFest Event Innovators Conference 2022
event
Jan 30 9:00 am - Jan 31 2:00 am


(GMT-05:00) Eastern Time (US & Canada)
label
Virtual
---
event
Dates
Jan 30 9:00 am - Jan 31 2:00 am
(GMT-05:00) Eastern Time (US & Canada)
---
Annual Event Innovators Conference
---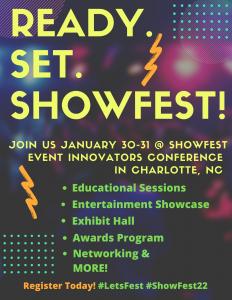 ShowFest 2022
---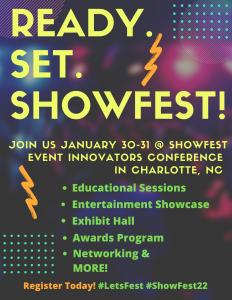 NCAF&E Member Festival & Event - Early Bird Rate
+$12.05 FEES
29 days left
NCAF&E Member Rate for Festival & Event Planners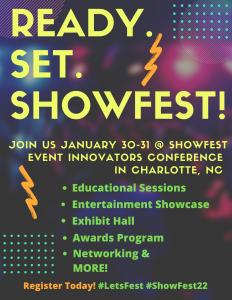 NCAF&E Non-Member Registration
+$20.67 FEES
57 days left
Non-member conference registration is available for Festival and Event planners.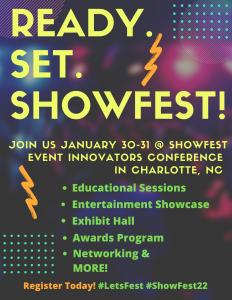 Ticket permits student to attend all portions of the conference and lunch on Sunday and Monday, but does not include dinner on Sunday night.
---
Interested in becoming an artist or exhibitor:
1 active application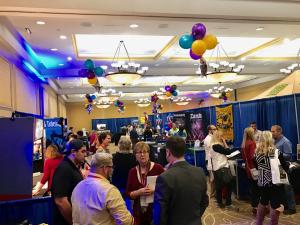 Welcome to the event! Browse through our applications and let us know if you have any questions. This is an electronic agreement and by selecting the booths, you are validating and approving...
+ More
alarm_off
The marketplace will be available on Jan 30, 2022 at 9:00 am (GMT-05:00) Eastern Time (US & Canada). Please check back at that time.
---
The North Carolina Association of Festivals & Events serves as a year-round forum for Festival and Event coordinators, key volunteers, and vendors that provide goods & services to the festival industry. The organization exists to...
+ More
---