inCONceivable
event
Nov 12 10:00 am - Nov 22 6:00 pm


(GMT+10:00) Brisbane
label
Virtual
---
---
To receive updates and reminders for this and other events hosted by Inconceivable Events, please enter your information below.
---
Ticket options
Price: Free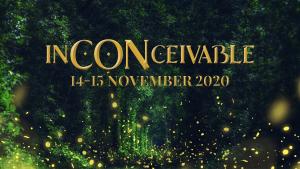 Please click here to register for a FREE ticket to inCONceivable 2020!
---
78 artists, shops & exhibitors
alarm_off
The marketplace is not available because the event has ended.
Guests - Community
---
3 shops
Guests - Cosplay & Gaming
---
3 shops
Retail Vendor – Clothing & Apparel
---
2 shops
Retail Vendor – Comic Books, Graphic Novels, Books & Novels
---
6 shops
Retail Vendor – Craft & Hobby Supplies/Kits
---
1 shop
Retail Vendor – Other
---
2 shops
---
Meet our sponsors:
1 sponsor
---
event
Dates
Nov 12 10:00 am - Nov 22 6:00 pm
(GMT+10:00) Brisbane
---
A virtual convention where you can shop all your favourite local artists and pop culture merchandise without leaving your home? ....As you wish! inCONceivable is a new, Australian-based virtual convention that aims to fill some of the gaps left by being unable to have in-person events at this time. By working with the team at Eventeny, and with the help of a lot of my convention and...
+ More
---
event
1 event
location_on
., QLD, Australia
Inconceivable Events began as an idea to build a virtual marketplace for all the Australian Artist Alley, Exhibitor and Vendor friends that have been suffering through a year with no pop-culture conventions. inCONceivable is a new,...
+ More
---