---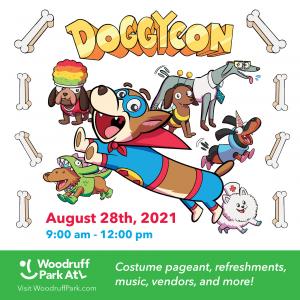 Let's Build WoodRUFF Dog Park
Last day to contribute: Sep 30, 2021
Help us make the WoodRUFF Dog Park a reality! Our Doggy Con fundraising goal is $15,000; your contribution is essential to bring this new amenity to the Downtown Atlanta neighborhood. With your support, we hope to break ground in 2022.
---
Ticket options
Price: $0-20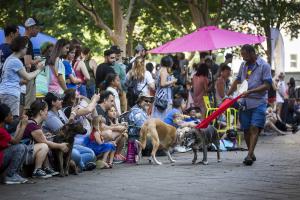 Spectator General Admission
26 days left
Doggy Con is free for spectators but please consider donating to the cause (see the Donate tab). No ticket is needed but your RSVP here is appreciated.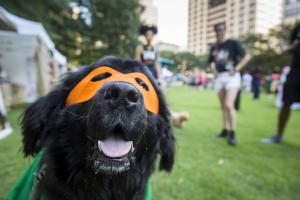 Costume Pageant Paw-ticipant
+$1.49 FEES
24 days left
Sign up here to have your dog compete in the costume pageant. The first 50 registrants will also receive a 2021 Doggy Con tote bag with goodies from our vendors and sponsors!
---
alarm_off
The marketplace will be available on Aug 28, 2021 at 9:00 am (GMT-04:00) Eastern Time (US & Canada). Please check back at that time.
Interested in becoming an artist or exhibitor:
1 active application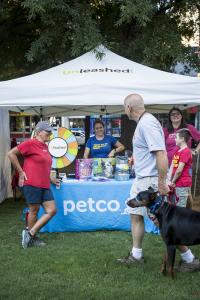 Doggy Con Vendor Application
Sign up here to become a vendor for Doggy Con 2001 in Woodruff Park! Spots are limited; dog- and pet-related vendors will be given priority for approval. We are not booking food trucks or food...
+ More
---
Meet our sponsors:
2 sponsors
---
event
Dates
Aug 28 9:00 am - Aug 28 12:00 pm
(GMT-04:00) Eastern Time (US & Canada)
location_on
Location
Woodruff Park, 91 Peachtree St, Atlanta, Georgia 30303, United States
---
Join us in paying homage to one of the world's largest pop culture conventions while competing for drool-worthy prizes—and raising funds to build a WoodRUFF Dog Park! Doggy Con features a pet costume pageant, a vendor village of dog-centric goods and activities, and plenty of pup culture. A registration fee is required for each competing pet, and all proceeds will directly...
+ More
---
event
3 events
location_on
Atlanta, Georgia, 30303
A public park in Downtown Atlanta
---