December 2020 Black Murfreesboro Market
---
event
Dates
Nov 24 8:00 am - Dec 05 10:00 pm
(GMT-06:00) Central Time (US & Canada)
location_on
Location
315 John Rice Boulevard, Murfreesboro, Tennessee 37129, United States
---
Give Back ! Shop Black The holiday season is the biggest shopping day(s) of the year. Lets make sure some of the money spent is put back into the black community via small black businesses! The physical market has past but the virtual market is still open! Come on in and SHOP!!!
---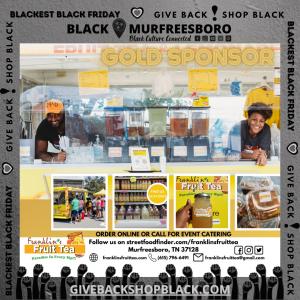 SPONSOR - Franklin's Fruit Tea
The Award Winning, Franklin's fruit tea, is brewed and bottled in Nashville TN. Founded in 2017, By the husband and wife team, Germayle and Mylikia Franklin, Franklin's Fruit quickly grew from a local festival beverage into a much-requested favorite throughout Tennessee. This emerging business has gained notoriety with Middle Tennessee residents by providing multiple flavors of the...
+ More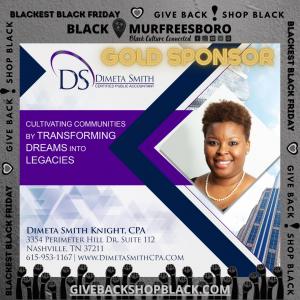 SPONSOR - Dimeta Smith CPA
We are accounting experts and financial advisors, dedicated to improving client outcomes. Our mission is to provide quality financial information and guidance with care and concern for our clients' needs. We promise to help our clients achieve their financial goals by providing outstanding service, timely information and reliable resources. As we celebrate our 10th year in business, we...
+ More
---
---
Beauty & Cosmetics
---
7 shops
Clothing & Accessories
---
11 shops
Fashion Accessories
---
1 shop
Food Truck/Trailer
---
3 shops
Hair & Beauty Supplies
---
2 shops
Health & Wellness
---
2 shops
---
Meet our sponsors:
1 sponsor
---
---
event
2 events
location_on
Murfreesboro, Tennessee, United States
---