Big 75 presents All or Nothing Madden 2K19 Video Game Tournament
---
---
---
Ticket options
Price: $30-50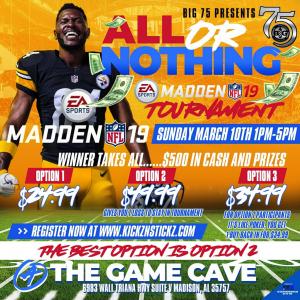 This is your base ticket option to play with the big boys in the all or nothing tournament. If you are confident and your skills and know you won't loose, then ticket option is for you. But be...
+ More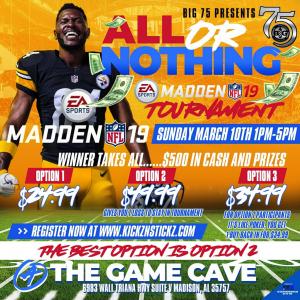 Cash Buy Back in Option. Purchased option 1 ticket and still lost. No worries. A cash buy back in option is available as a life saver. Purchase this option after your loss during the tournament and...
+ More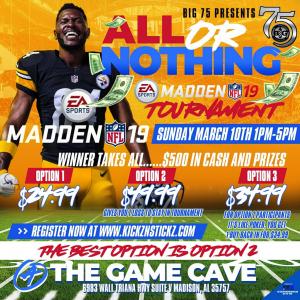 Option 2 give you the best odds of walking away a winner! This ticket option gives you a second shot at the prize in the event you fall in one of the earlier rounds. You opponent may have Eli...
+ More
---
---
event
Dates
Mar 10 1:00 pm - Mar 10 5:00 pm
(GMT-04:00) Eastern Time (US & Canada)
location_on
Location
6983 Wall Triana Highway, Madison, AL, USA
---
Big 75 Inc presents Kicks n Stickz "All or Nothing" Madden 2k19 Video Game Tournament. Think you have what it takes to be the ultimate gamer? Then join us for this exclusive poker style, all or nothing Madden Video Game Tournament sponsored by Kickz n Stickz. The winner of this all or nothing tournament, will take home over $500 in cash and prizes. Three entry tiers are available with...
+ More
---
event
3 events
location_on
Suwanee, Georgia, United States
Big 75 Inc is a for profit organization dedicated to the education and advancement of professional barbers across the world thru community outreach, training, and strategic partnerships with local business and organizations.
---