2021-2022 Art Walk - July Art Walk
---
Interested in becoming an artist or exhibitor:
1 active application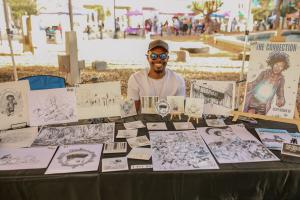 NOVEMBER'S APPLICATION WILL OPEN ON SEPTEMBER 24TH AND WILL REMAIN OPEN UNTIL OCTOBER 15TH. So, you want to show off your amazing art? Apply for a spot to display and sell your artwork at...
+ More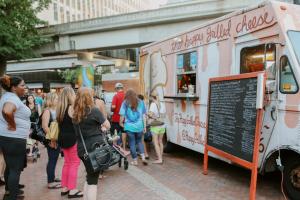 Deadline: Sep 13, 2021 (Deadline passed)
OUR ANNUAL FOOD TRUCK APPLICATION IS CLOSED. Wanna bring your food truck to Art Walk? Or you wanna sell food items at Art Walk? Fill out this application! YOU MUST READ TERMS AND...
+ More
alarm_off
The marketplace will be available on Jul 06, 2022 at 5:00 pm (GMT-04:00) Eastern Time (US & Canada). Please check back at that time.
Artist Application
---
34 shops
Food Truck/Food Vendor
---
15 shops
Partner Application
---
6 shops
---
---
event
Dates
Oct 06 5:00 pm - Sep 07 9:00 pm
(GMT-04:00) Eastern Time (US & Canada)
location_on
Location
135 W Monroe St, Jacksonville, Florida 32202, United States
---
The First Wednesday Art Walk is a monthly, family-friendly event produced by Downtown Vision (DVI), the Business Improvement District, to bring people to the cultural and historical center of the city and showcase Jacksonville's deep and energetic pool of creative talent. Art Walk is open to visual and performing artists on the first Wednesday of every month from 5–9 p.m., rain or...
+ More
---
event
5 events
location_on
Jacksonville, Florida, United States
Downtown Vision is a not-for-profit organization revitalizing Downtown through clean and safe initiatives, experience creation, marketing and information management. Created by commercial property owners through a self-assessment and governed by a...
+ More
---