Art For All Presented by Florida Blue
Deadline: Feb 06, 2022 11:59 pm
Date: Feb 03, 2022 12:00 am - Feb 06, 2022 11:55 pm
About the event
February 5 & 6, 2022 with Opening Night Friday February 4! ArtFest Fort Myers is Southwest Florida's Premier Art Festival always on the first weekend in February. ArtFest enlivens the Fort Myers waterfront with exceptional art, entertainment and children's art activities. Join the Team and volunteer with ArtFest, Friends, and the Community!

ArtFest Fort Myers
About the application
Art For All presented by Florida Blue is an exciting new area at ArtFest Fort Myers. Large and small works of art will be created over Festival Weekend. Zot Artz has adaptive tools & Devices that turn wheelchairs into huge paint brushes! This activity allows artists of all abilities and ages to stamp, draw, or paint to make their mark at ArtFest. Volunteers will be assisting people...
+ More
Terms & Conditions
Terms & Conditions: I understand that the following are symptoms of COVID-19: fever or chills, cough, shortness of breath or difficulty breathing, fatigue, muscle or body aches, headache, new loss of taste or smell, sore throat, congestion or runny nose, nausea or vomiting, and diarrhea ("COVID-19 Symptoms"). I certify that 14 days before the festival, I will only attend if...
+ More
Title
Location
Time
Slots available
Hours
Art for All Greeter *
Arts for All located at North Hendry Street and Edwards Drive
Feb 05, 2022 9:30 am - 1:30 pm
0
4
Gift Bags * (Requires manual dexterity)
Arts for All located at North Hendry Street and Edwards Drive
Feb 05, 2022 9:30 am - 1:30 pm
0
4
Pass & Return Pogos *
Arts for All located at North Hendry Street and Edwards Drive
Feb 05, 2022 9:30 am - 1:30 pm
1
4
Pogo Painter
Arts for All located at North Hendry Street and Edwards Drive
Feb 05, 2022 9:30 am - 1:30 pm
1
4
Take Home Poster *
Arts for All located at North Hendry Street and Edwards Drive
Feb 05, 2022 9:30 am - 1:30 pm
1
4
Art for All Greeter *
Arts for All located at North Hendry Street and Edwards Drive
Feb 05, 2022 1:00 pm - 5:00 pm
0
4
Gift Bags * (Requires manual dexterity)
Arts for All located at North Hendry Street and Edwards Drive
Feb 05, 2022 1:00 pm - 5:00 pm
0
4
Pass & Return Pogos *
Arts for All located at North Hendry Street and Edwards Drive
Feb 05, 2022 1:00 pm - 5:00 pm
2
4
Pogo Painter
Arts for All located at North Hendry Street and Edwards Drive
Feb 05, 2022 1:00 pm - 5:00 pm
0
4
Take Home Poster *
Arts for All located at North Hendry Street and Edwards Drive
Feb 05, 2022 1:00 pm - 5:00 pm
1
4
Art for All Greeter *
Arts for All located at North Hendry Street and Edwards Drive
Feb 06, 2022 9:30 am - 1:30 pm
2
4
Gift Bags * (Requires manual dexterity)
Arts for All located at North Hendry Street and Edwards Drive
Feb 06, 2022 9:30 am - 1:30 pm
1
4
Pass & Return Pogos *
Arts for All located at North Hendry Street and Edwards Drive
Feb 06, 2022 9:30 am - 1:30 pm
2
4
Pogo Painter
Arts for All located at North Hendry Street and Edwards Drive
Feb 06, 2022 9:30 am - 1:30 pm
2
4
Take Home Poster *
Arts for All located at North Hendry Street and Edwards Drive
Feb 06, 2022 9:30 am - 1:30 pm
0
4
Art for All Greeter *
Arts for All located at North Hendry Street and Edwards Drive
Feb 06, 2022 1:00 pm - 5:00 pm
1
4
Gift Bags * (Requires manual dexterity)
Arts for All located at North Hendry Street and Edwards Drive
Feb 06, 2022 1:00 pm - 5:00 pm
0
4
Pass & Return Pogos *
Arts for All located at North Hendry Street and Edwards Drive
Feb 06, 2022 1:00 pm - 5:00 pm
2
4
Pogo Painter
Arts for All located at North Hendry Street and Edwards Drive
Feb 06, 2022 1:00 pm - 5:00 pm
1
4
Take Home Poster *
Arts for All located at North Hendry Street and Edwards Drive
Feb 06, 2022 1:00 pm - 5:00 pm
1
4
Questions on the application
Volunteer information
Name
Email
Phone
Age
Address
Emergency contacts
T-shirt size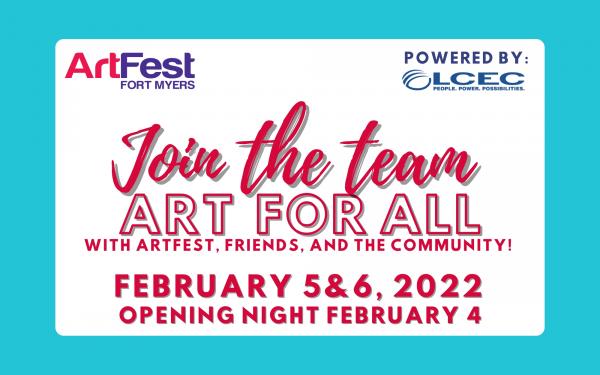 Art For All Presented by Florida Blue
ArtFest Fort Myers/ Volunteers - 2022