Chalk Block Competition Presented by Golisano Children's Hospital of Southwest Florida
Deadline: Feb 02, 2022 11:59 pm
Date: Feb 03, 2022 12:00 am - Feb 06, 2022 11:55 pm
About the event
February 5 & 6, 2022 with Opening Night Friday February 4! ArtFest Fort Myers is Southwest Florida's Premier Art Festival always on the first weekend in February. ArtFest enlivens the Fort Myers waterfront with exceptional art, entertainment and children's art activities. Join the Team and volunteer with ArtFest, Friends, and the Community!

ArtFest Fort Myers
About the application
Chalk Block is our sidewalk chalk competition featuring teams of high school students with professional chalk artists as mentors. This great activity needs volunteers to support the Chalk Block Committee. Chalk Block volunteers help to ensure that students are registered, are assigned spaces and have adequate supplies, as they create their art pieces. Please arrive on time, as students will...
+ More
Terms & Conditions
COVID-19 SAFETY INFORMATION: Any public location where people are present provides an inherent risk of exposure to COIVD-19, despite additional precautions in place to mitigate this risk, we cannot guarantee that you will not be exposed to COVID-19 during the event. The process of registration for a volunteer position at ArtFest Fort Myers means that volunteer hereby agrees to comply with...
+ More
| Title | Location | Time | Slots available | Hours |
| --- | --- | --- | --- | --- |
| Chalk Block Street Painting Support | Hendry Street Median Nearest the Old City Pier Building | Feb 04, 2022 2:00 pm - 5:00 pm | 2 | 3 |
| Chalk Block Street Painting Support | Hendry Street Median Nearest the Old City Pier Building | Feb 05, 2022 7:30 am - 11:30 am | 2 | 4 |
| Chalk Block Street Painting Support | Hendry Street Median Nearest the Old City Pier Building | Feb 05, 2022 11:00 am - 3:00 pm | 2 | 4 |
Questions on the application
Volunteer information
Name
Email
Phone
Age
Address
Emergency contacts
T-shirt size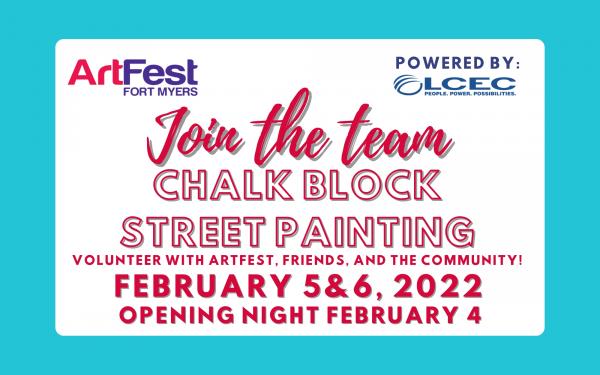 Chalk Block Competition Presented by Golisano Children's Hospital of Southwest Florida
ArtFest Fort Myers/ Volunteers - 2022