Application deadline has passed
2020 Locally Grown Application & Agreement
Deadline: Mar 22, 2020 11:59 pm
Date: May 07, 2020 5:00 pm - May 07, 2020 10:00 pm
About the event
Taste of Alpharetta has become an annual tradition for festival-goers, families and food connoisseurs. Mark your calendars to dine in Downtown Alpharetta at over 65 local restaurants in one fun night. New this year! Restaurants will choose to participate in one of 2 restaurant areas. a) Participate as a booth in the NEW! Zero Waste compostable area or b) Participate as a booth NOT in...
+ More
City of Alpharetta
About the application
The Locally Grown area is for non-restaurant organizations within the food system to engage with the community through an interactive booth focused on food production, education, and distribution. *Please download the "ABOUT LOCALLY GROWN" PDF and review the presentation before applying.* We have a limited number of booth spaces available for this new area, so we will be...
+ More
Terms & Conditions
GENERAL INFORMATION & AGREEMENT By reading the information below and submitting this online Locally Grown Application & Agreement, you are agreeing to abide by all rules and regulations set forth by the event organizers in the 2020 Taste of Alpharetta and made a part hereof by reference. 1) LOCALLY GROWN BOOTH SPACE IS LIMITED. The Taste of Alpharetta committee will review each...
+ More
| | | |
| --- | --- | --- |
| 10 x 10' Nonprofit Booth Space | $30 | Includes a 10 x 10' tented space, one 6' table and two chairs. |
| Handwashing Station Equipment Purchase - each restaurant is REQUIRED to bring (prefered) or purchase | $20 | Each restaurant participating is required to provide a hand-washing station for your booth set-up. Restaurants may bring their own handwashing station items (preferred) or purchase these from the City. Station items include: 2.5 gallon water dispenser, catch bucket, soap, and one roll of paper towels. |
Questions on the application
Business information
Business name
Legal business name
Contact name
Address
Email
Phone
Website (Optional)
Logo (Optional)
Additional information
Facebook Link/Handle
Day-of Contact Name
Day-of Contact Mobile Phone - (XXX) XXX-XXXX
How many 120-volt electrical outlets will you require? If you do not know the electrical requirement - what appliance are you bringing? Note: Electricity is limited and note guaranteed. Please request an outlet only if necessary. Please bring two heavy-duty outdoor 100-ft. Extension cords for each outlet and a power strip.
Describe the activities/displays to be featured at your booth IN DETAIL. (Note: full-sized food/drink items are not permitted to be sold or given away.)
Mark all categories in which your activity applies.
How many tickets do you plan to charge for your activity at this event? (Reminder: Each ticket is worth $0.50 and the City will retain 50% of your total.)
Special Requests (The City of Alpharetta will make every effort to accommodate special requests within the space of our festival, however, special requests are not guaranteed.)
For nonprofits, please upload a copy of your 501c(3).
If you intend to charge tickets at this event, please be sure to register as a vendor through the City's online portal at https://mss.alpharetta.ga.us/MSS/Vendors/default.aspx to receive your 50% payment.
If you intend to charge tickets at this event, please attach a copy of your completed W-9 if you have not already done so a previous year.
Food safety is one of our highest priorities for this event, as detailed in the DPH standards outlined here: http://bit.ly/FultonCoHealth. You may provide your own handwashing station or purchase one from the City, as they are MANDATORY for organizations serving edible items. Required: Paper towels, hand soap, 2.5 gallon water with spigot to wash hands, and 5 gallon discard bucket.
Picture requirements
Minimum pictures required: 1
Please submit a detailed diagram and/or photograph(s) of your booth set-up.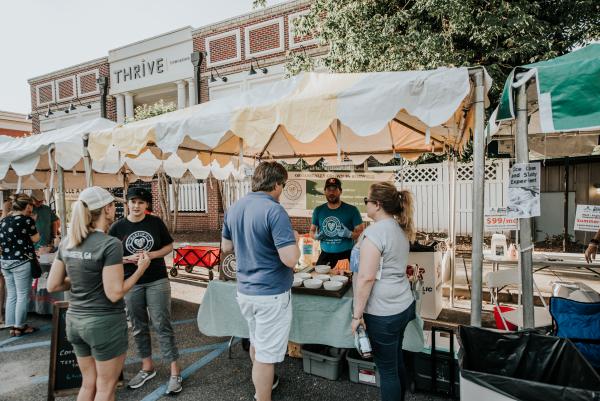 2020 Locally Grown Application & Agreement
2020 Taste of Alpharetta
Application deadline has passed