Application deadline has passed
2023 DCFR Outdoor Commercial Vendor Application
Deadline: Jul 25, 2023 5:00 pm (GMT-08:00) Pacific Time (US & Canada)
Date: Aug 02, 2023 11:00 am - Aug 06, 2023 8:00 pm (PST) Deschutes County Fair & Expo Center
| | | | |
| --- | --- | --- | --- |
| 50 amp power | $200 | Non-refundable | |
| 10'x10' booth behind your frontage space | $100 | | This pricing is for each 10'x10' booth that sits behind the frontage booths. You must pay for a full price booth before you can add this behind it. For example a 20'x20' would be charged full price for 2 booths and this rate for 2 booths. |
| 10' deep x 10' wide Booth - Carnival Row | SOLD OUT | | Single booth space is 10' deep and 10' feet wide on main carnival row |
| 10' deep x 10' wide Booth - Main Entrance | $650 | | |
| 10' deep x 10' wide Booth - General Outdoor Areas | SOLD OUT | | |
| Corner fee | $75 | | An add on fee for a corner booth |
Questions on the application
Business information
Business name
Legal business name
Contact name
Address
Email
Phone
Website (Optional)
Logo (Optional)
Additional information
Name, email, and phone number of person checking in at fair (if different than above contact)
Describe your product, please list brand names and all items that you sell:
What type of booth do you have?
Do you give out food/beverage samples?
How much electricity do you need (1 - 110 outlet available per booth, additional power will be charged at $50 per 110 outlet and $200 per 50 amp plug)
Do you need a fork lift to unload/load?
Were you an outdoor vendor in 2022 at the DCFR? And would you like the same space?
I understand that ALL aspects of my booth MUST fit inside the booth size that I chose - NO EXCEPTIONS
I understand that my booth must be fully open at all hours of the fair and that closing early on any day (especially Sunday) will result in not being allowed to return to the DCFR:
Do you need full hook-up RV camping?
Picture requirements
Minimum pictures required: 1
Please include a photo of your booth fully set-up and photos of specific products you plan to sell.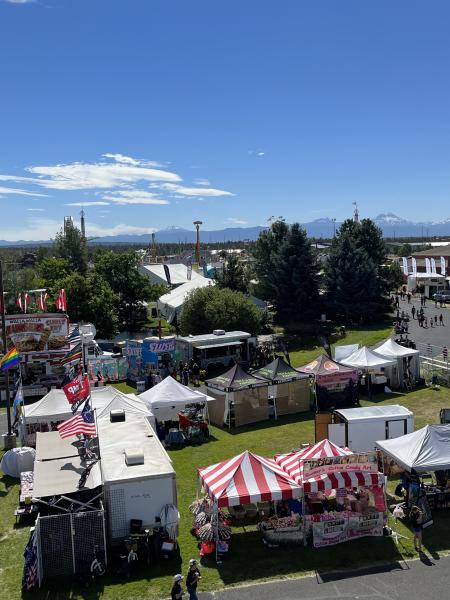 2023 DCFR Outdoor Commercial Vendor Application
Deschutes County Fair & Rodeo
Application deadline has passed