Application is in draft mode by event organizer
Prepared Foods Application
Deadline: Feb 10, 2020 11:59 pm
Date: Mar 14, 2020 9:00 am - Mar 15, 2020 5:00 pm
About the event
Two Day Arts & Crafts Festival - Unique Hand Made Arts & Crafts Kick off spring with the Forsythia Festival, held annually the second weekend in March in downtown Forsyth. This free, family-fun event features a two-day arts-and-crafts show, children's fair, a 5K, sporting tournaments, live entertainment, and much more! Enjoy mouth-watering foods, fine arts and crafts, and...
+ More
Forsyth-Monroe County Chamber of Commerce
About the application
The Prepared Foods Application is for homemade, prepared food products from local and non-local vendors. Thank you for your interest in the 33rd Annual Forsythia Festival, March 14-15, 2020. The Forsythia Festival is a fine arts-and-crafts show festival with traditional and contemporary crafts. All items are juried based on their merit to the festival. Only handcrafted items made by the...
+ More
Terms & Conditions
Any vendor preparing or serving food must obtain a temporary food permit from the Monroe County Health Department at least one week prior to the festival. This is the SOLE responsibility of the vendor. Please call (478) 992-5082 for more information. ELIGIBILITY All media must be handmade and original. Flea-market items, manufactured items, and handmade imports WILL NOT BE...
+ More
| | | |
| --- | --- | --- |
| Single booth | $185 | 10x10 |
| Double booth | $370 | 20x10 - |
| Outlet rental | $25 | |
Questions on the application
Business information
Business name
Legal business name
Contact name
Address
Email
Phone
Website (Optional)
Logo (Optional)
Additional information
Have you been a vendor at the Forsythia Festival in the past? (list years)
Vendors may only sell items approved by the Forsythia Festival. List ALL products and prices that will be sold from your booth. Only items listed on this application and those subsequently approved prior to the festival can be sold. This will be monitored. If you violate our approved list, you will be asked to remove items(s).
Will you be cooking in your booth?
Will you need access to electricity? (120v)
Proof of insurance is mandatory for FOOD VENDOR participation in the Forsythia Festival. We must receive your copy no later than February 23, 2019. Please select your method of submission below:
New this year: Vendors may not break down their booths until 5 p.m. on Sunday. You must fully pack up your booth then have it checked by Festival staff. Once approved, you will receive a ticket to get your car. Our festival volunteers will take you to your parking lot to retrieve your vehicle. You will enter the festival grounds via W. Adams Street, just like you did at registration. No vehicles will be allowed entry without a ticket. Initial below to acknowledge you've read the new policy.
Picture requirements
Minimum pictures required: 4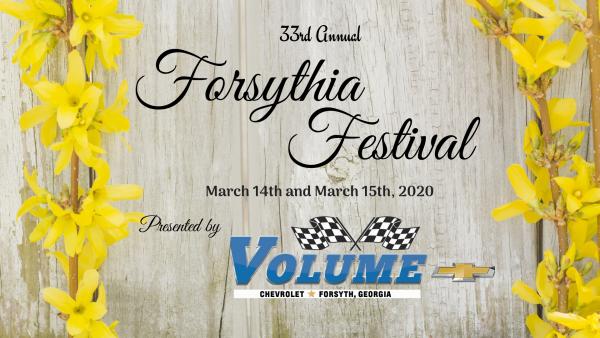 Prepared Foods Application
33rd Annual Forsythia Festival
Application is in draft mode by event organizer