Application is in draft mode by event organizer
Deadline: Mar 15, 2020 5:00 pm
Date: Apr 24, 2021 9:00 am - Apr 24, 2021 6:00 pm
About the event
Each year in April, Mount Olive the community and Mt.Olive the company come together to celebrate a dill-lightful relationship. The Award-winning North Carolina Pickle Festival is a fun, family-friendly event that kicks off on Friday night and runs all day Saturday in downtown Mount Olive. The festival boasts three stages of live music, classic cars and antique tractors, free pickles, pickle...
+ More
North Carolina Pickle Festival, Inc.
About the application
Space size is 10' X 15' including towing tongue -$55 120 volt/20 amp circuits-$50 User Liability Insurance Policy, if purchased through the NC Pickle Festival -$70 Late Fee-$75 if after March 15, 2020.
Terms & Conditions
The NCPF Planning Committee and the Mount Olive Area Chamber of Commerce are not liable for damages, injury or loss to any person or goods from any cause whatsoever. The NCPF Committee or the Mount Olive Area Chamber of Commerce cannot be held responsible for any claims for damage, injury or loss arising out of or in connection with use of space or grounds in the festival. The NCPF Committee...
+ More
| | | |
| --- | --- | --- |
| Arts & Crafts Vendor Booth | $55 | Space size is 10' X 15' including towing tongue |
| Electricity- 120 volt/20 amp Circuits | $50 | |
| Late Fee | $75 | Please add at $75.00 late fee for applications received after the March 15, 2020 deadline. |
| Fire Code Enforcement | $15 | |
Questions on the application
Business information
Business Name
Contact Name
Address
Email
Phone
Website (Optional)
Logo (Optional)
Additional information
Will you be parking a trailer in your space(s)?
Water needed?
The following items must be included with you application: Copy of insurance certificate, signed copy of vendor rules, photos of display and signed copy of fire code requirements.
Picture requirements
Minimum pictures required: 4
Attach pictures of handmade items for sale.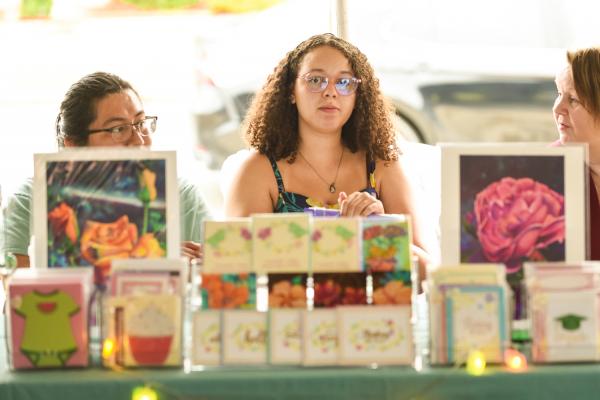 Arts & Craft Vendor
North Carolina Pickle Festival
Application is in draft mode by event organizer