Application deadline has passed
Deadline: Jun 11, 2021 11:59 pm
Date: Jun 18, 2021 3:00 pm - Jun 20, 2021 11:59 pm
About the event
Juneteenth is the oldest, nationally celebrated commemoration of the ending of slavery in the United States of America. Two and a half years after the 16th President of the United States, Abraham Lincoln, delivered the Emancipation Proclamation, where Black people were considered free and delivered from enslavement. With over 12 years of this anticipated commemoration. Our annual...
+ More
Umoja Events
About the application
Join us as a vendor to showcase your products and sell your products directly from our platform. What do you get as a vendor: 1. A space that allows you to upload videos and pictures of your business 2. Able to create commercials for your business that we can share to promote your business 3. We help you with building brand connection 4. Open to different kinds of businesses...
+ More
Terms & Conditions
We reserve the right to refuse a vendor for none payment and lack of engagement. In order to hold successful events as we have learned in our over 11 years of event experience, we seek small businesses that will be engaged with our platform and open to sharing other businesses for added exposure.
Questions on the application
Business information
Business name
Legal business name
Contact name
Address
Email
Phone
Website (Optional)
Logo (Optional)
Additional information
Have you read and do you agree to the photo release?
Social Media handle IG
Would you be interested in assistance with the following? Mark all that apply.
Tell us what kind of products you will be selling?
How did you hear about this event?
Please tell us why you want to join our Juneteenth NY Summit? This will be used in promoting your business on social media.
Notes
Are you from the Toledo branch or did you learn about this event from the Toledo, Juneteenth NY page?
Please select the ones that are most relevant to you?
Picture requirements
Minimum pictures required: 2
Please upload clear pictures of your business. Pictures can include your logo, pictures of your product or service or infographic that lets attendees know who you are. Feel free to use Canva.com to create a polished picture with your business information so people know how to get in contact with you.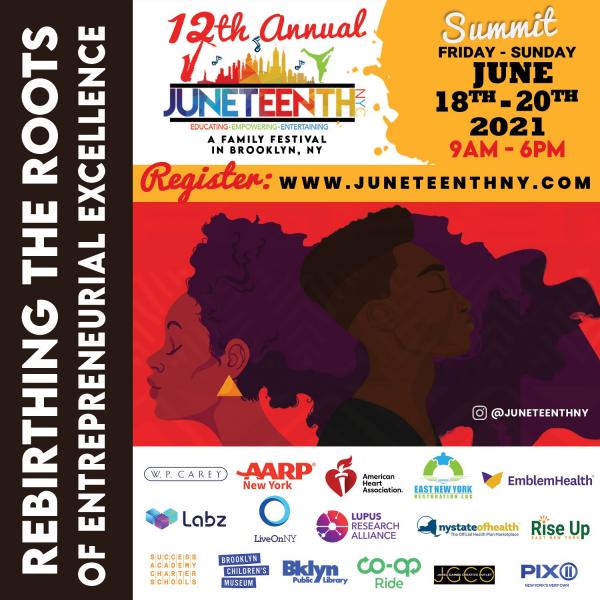 Sponsors Virtual Tabling
12th Annual Juneteenth NYC Family Festival Hybrid (In-person and Virtual)
Application deadline has passed