Deadline: Apr 30, 2021 5:00 pm
Date: Oct 01, 2021 10:00 am - Oct 03, 2021 5:00 pm
About the event
Join the Waterford Foundation for it's largest fundraiser and celebration of FALL in the unique historic village of Waterford, Virginia this October 1, 2 & 3!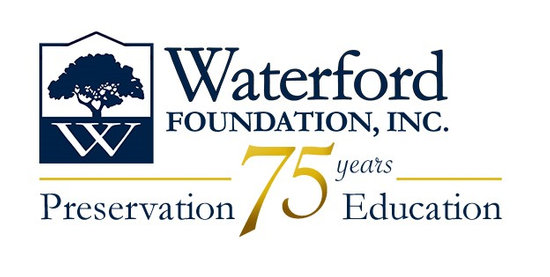 Waterford Foundation
About the application
The 77th Annual Waterford Fair, a juried artisan exhibition with demonstrations and retail sales, will be held in the National Historic Landmark village of Waterford. This truly unique setting gives the 75 heritage and contemporary artisans accepted a beautiful backdrop to demonstrate, sell their products and cultivate lasting relationships with loyal buyers. The 10,000+ visitors who attend...
+ More
Terms & Conditions
Cancellation Policy: Cancellations must be submitted in writing. Booth fees will be refunded, less a $50 processing fee, if cancelled prior to 5:00 pm on August 31. The booth fee is for exhibit space rental by the artisan ONLY and is not transferable. If the artisan cannot participate, control of the space reverts to the Foundation and refunds are made per stated policy. No refunds are given if...
+ More
| | | |
| --- | --- | --- |
| Application Fee | $30 | Early bird registration savings of $10 expires March 31, afterwards the application fee rises to $40. |
Questions on the application
Business information
Business name
Legal business name
Contact name
Address
Email
Phone
Website (Optional)
Logo (Optional)
Additional information
Do you have a co-artist applying with you? If so, what is his/her name and email address.
Please provide a brief Artisan's statement.
Demonstrating is an important aspect of our event. Please describe how you plan to demonstrate your art or craft during the event. Note this is specific to the Fair and not to be a substitute for your artisan statement.
Education is a large part of the Waterford Foundation's mission, as such we ask Fair artisans to provide a small educational activity for children that relates to your work. Keep it simple so with a few quick instructions you can then turn to the parents/customers and talk. Please contact the office if you need ideas or examples of activities. Please describe your activity here. If you do not plan to participate please state so. This is not a requirement, but we do hope you will participate.
I have read the Demo Artisan Application Details and by applying agree to abide to the rules laid out within.
I acknowledge that I will provide liability coverage by September 1.
Homestay/Lodging: local families generously welcome artisans into their homes during the Fair on a first come, first serve basis for free. COVID-19 may dictate we cannot offer homestays. Please let us know if you would be interested in a homestay opportunity and the number of beds you would require should you be accepted into the Fair (ex. 1 bed for 2 adults, or 2 twins for 2 adults) If not, please answer "no".
Please provide your top 3 preferences for booth/space by listing the item number. For example: if your first choice is "Outside 100 sq. ft. then you would list #7 as your choice. List choices as follows: 7, 8, 1.
Applicant agrees with the following statement: Placement is only secured when the balance is paid in full. Accounts will be adjusted after site selection and the artisan will be notified if there are any changes. Booth/space fee payments may be paid by credit card or by sending a check or money order to our office. All booth fees must be paid by August 20 to participate in the event.
I/we would prefer to be in the old-time Village Market and have a historically accurate market tent.
Please list your tent size (length x width x height) and any special details, such as, outside guide ropes extent beyond footprint of the tent. Please also note if you use stakes, weights, or both. We have some areas that stakes will not work easily. If you are applying for indoor space, please state no tent in answer to this question.
The Foundation has a limited supply of tables for rent for $15 each. If selected, would you need to rent tables, yes or no? If so, how many?
For outdoor spaces only, if selected will you need to rent electricity (fee $25; bring your own cord) -- yes or no? Please list any equipment that will be running on power except for lighting. Note: no power tools are to be used for your demonstration.
If you are selected and need help finishing off your "look" - aprons are available to rent on a first come, first serve basis for $25 each. If you need one or more, please let us know how many.
List how you would like your name(s) to appear on your badge(s) if selected. Each artisan will receive up to two (2) name badges for him/her and one (1) helper or co-artisan.
Please let us know if this is your first time applying. If you have participated with the Fair previously, how many years?
Picture requirements
Minimum pictures required: 6
Please include the following images: Four product images representative of they items you will have available for purchase One image of you, the artisan, at work in your studio or make room One image of your tent or booth set up