Deadline: Jul 31, 2020 11:59 pm
Date: Sep 11, 2020 3:00 pm - Oct 19, 2020 5:00 pm
About the event
Suwanee Fest will be VIRTUAL this year! We know you still want to get your shop on, so our vendors will be opening their online stores now through the end of the month! On September 19-20 (festival weekend), we will be posting LIVE videos with fun games, contests, entertainment, vendor showcases, and sponsor spotlights! It's like Suwanee Fest always has been - only from your couch. And...
+ More

City of Suwanee
About the application
The Platinum Level of Sponsorship is limited to four sponsors and includes: *Two Suwanee Fest t-shirts *Listed as a sponsor on the website and publications with logo *Complimentary parade entry *DOUBLE - booth space at the festival (or single if preferred) *Tent, table and chairs (if needed) *Electricity (if needed) *1/2 page size advertisement in festival publication *Four parking...
+ More
Terms & Conditions
The City of Suwanee, a Georgia Municipal Corporation, and its agents, employees, and representatives thereof assume no liability or responsibility for injury or loss that may result to any exhibitor or his/her personal or corporate affects including goods for sale that may occur on the premises or may arise under Suwanee Fest activities. Applicant further agrees, consents, and acknowledges to...
+ More
| | | |
| --- | --- | --- |
| Platinum Sponsorship | $6,000 | The Platinum Sponsorship does include a booth at the event. It can be a single or double booth size. Tent, table and chairs available upon request. Parade entry and electricity also provided for silver level and higher. Platinum sponsors also get their logo on festival advertising AND get their "name" on a piece of the festival - parade, rides & games, man cave, fun zone, or stage entertainment. |
Questions on the application
Business information
Business name
Legal business name
Contact name
Address
Email
Phone
Website (Optional)
Logo (Optional)
Additional information
What size booth would you like to have?
Do you need a rented tent?
Do you need any tables?
Do you need any folding chairs?
Do you need electricity?
Do you wish to particpiate in the Suwanee Fest Parade?
Do you want to be part of the Sponsor Best of Show Competition?
You will receive two festival t-shirts. What sizes would you like?
How will you pay for your sponsorship? ALL PAYMENTS DUE BY August 19.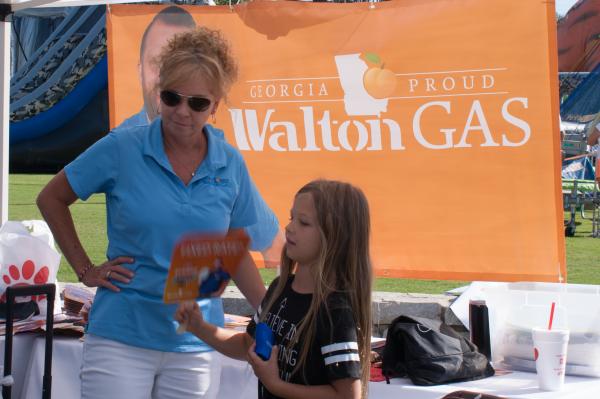 Platinum Sponsorship
Suwanee Fest 2020 goes VIRTUAL