Application deadline has passed
Musician Application for Porch Jam
Deadline: Jun 10, 2022 11:59 pm
Date: Jun 24, 2022 6:00 pm - Jun 24, 2022 10:00 pm
About the event
The Suwanee Summer Porch Jam was started as part of Make Music Day — an international celebration of music! Launched in 1982 in France, it is held on the Summer Solstice every year in more than 750 cities in 120 countries. Suwanee decided to move our event and keep it on the Friday before the Summer Solstice each year. Summer Porch Jam will have the feel of an old-fashioned summer...
+ More

City of Suwanee
About the application
Summer Porch Jam has several venues throughout the old town area that we are seeking a few small musical acts to perform. Singers, duos and trios may apply to be considered for slots ranging from 15 minutes to NO MORE than 30 minutes. *Please note that Summer Porch Jam does not charge for admission, therefore entertainers are generally not paid to perform at this event. All performances...
+ More
Terms & Conditions
The City of Suwanee, a Georgia Municipal Corporation, and its agents, employees, and representatives thereof assume no liability or responsibility for injury or loss that may result to any exhibitor or his/her personal or corporate affects including goods for sale that may occur on the premises or may arise under Suwanee Fest activities. Applicant further agrees and acknowledges to hold the...
+ More
Questions on the application
User information
First name
Last name
Email
Gender
Birthday
Address
Additional information
Type of entertainer
Please describe type of music, dance or performance.
What genre of music do you play?
Share your work with us. Please provide a link to your website or links to videos of your performances:
At what other festivals or event have you performed?
Other comments:
Knowing this event is all about the music, do you expect to be paid and do you understand we have a limited budget?
How much do you wish to be paid for a limited-time performance?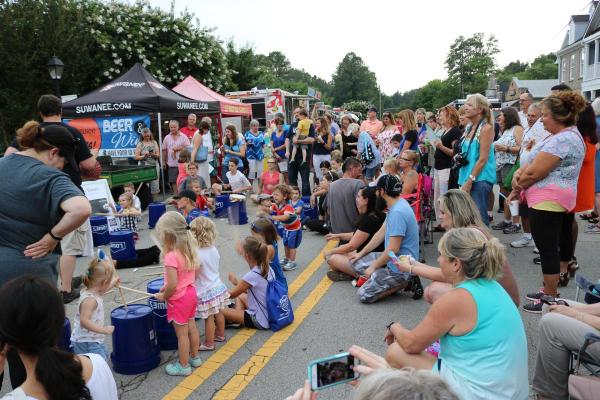 Musician Application for Porch Jam
Suwanee's Summer Porch Jam 2022
Application deadline has passed