Application deadline has passed
Juneteenth 'Pomp' Pageant
Deadline: Apr 21, 2021 11:59 pm
Date: Jun 18, 2021 3:00 pm - Jun 20, 2021 11:59 pm
About the event
Juneteenth is the oldest, nationally celebrated commemoration of the ending of slavery in the United States of America. Two and a half years after the 16th President of the United States, Abraham Lincoln, delivered the Emancipation Proclamation, where Black people were considered free and delivered from enslavement. With over 12 years of this anticipated commemoration. Our annual...
+ More
Umoja Events
About the application
Mr. & Miss Juneteenth NY 'Pomp' Pageant What the heck is a pomp? It's our play on Sir Edward Elgar's classic tune of Pomp and Circumstance that when heard often signifies graduation or a regal entrance musical ensemble designed for royalty. Our Juneteenth Pomp is a family-based experience that leads youth 13-19 years old into a cascade of learning through leadership...
+ More
Terms & Conditions
Refund Policy... ​All fees paid to the organizers are NOT REFUNDABLE and NOT TRANSFERABLE in full or in part under any circumstances. This includes, but is not limited to deposits, registration fees, advertising fees, introduction outfit fees, pageant admission ticket sales fees, optional fees, video package fees, calendar fees, vendor fees and any other fees paid to Umoja Events...
+ More
| | | |
| --- | --- | --- |
| Full Fee | $250 | Full payment for registration minus personal fees. |
| Deposit For Payment Plan | $75 | This is a deposit. This indicates to us that you would like to be set up for a payment plan for the balance of the amount due in equal payments. Any missed payments may disqualify you from continuing. Please notify us if any changes occur. |
Questions on the application
User information
First name
Last name
Email
Gender
Birthday
Address
Business information
Business name
Legal business name
Contact name
Address
Email
Phone
Website (Optional)
Logo (Optional)
Additional information
Why should you be Mr./ Miss. Juneteenth ?
What would you say to people who do not believe that pageants are a good influence on women?
Who is your role model? Why?
What do you think are issues in your community that need improvement?
What is your birthdate? Month, Day and Year?
What community are you representing?
Where do you go to school?
Do you have a significant other? What is their opinion on you competing in a pageant?
What are your measurements and shoe size? (Possible attire)
what are your hobbies?
Are you in any community service activities?
What is pageantry? What does it mean to be a part of it?
If you are under the age of 18 please share guardians full name and number to confirm consent?
If over 18 years of age, please sign that you are of age to participate in this pagaent? If you are the parent you are confirming that you agree to all the terms and conditions of this program.
I have read all information and understand that by signing I agree to comply with all rules, requirements and regulations.
I have read all information concerning the Code Of Conduct and by selecting and signing I agree to comply
I am wholly and completely aware that there are No Refunds under any circumstances
I give Umoja Events and The Juneteenth NY Pomp Pageant express permission to use my likeness in promotion of the pageant.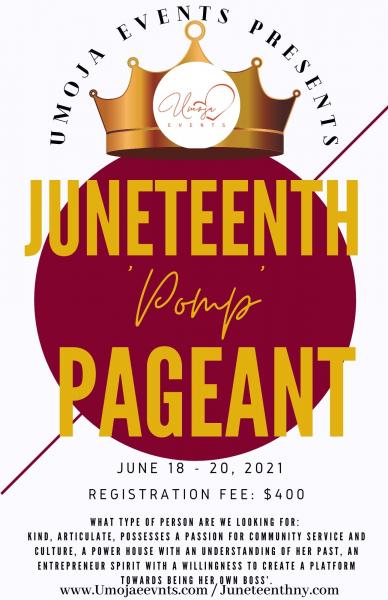 Juneteenth 'Pomp' Pageant
12th Annual Juneteenth NYC Family Festival Hybrid (In-person and Virtual)
Application deadline has passed