Application is in draft mode by event organizer
Deadline: Mar 12, 2020 11:00 pm
Date: Mar 14, 2020 9:00 am - Mar 15, 2020 5:00 pm
About the event
Two Day Arts & Crafts Festival - Unique Hand Made Arts & Crafts Kick off spring with the Forsythia Festival, held annually the second weekend in March in downtown Forsyth. This free, family-fun event features a two-day arts-and-crafts show, children's fair, a 5K, sporting tournaments, live entertainment, and much more! Enjoy mouth-watering foods, fine arts and crafts, and...
+ More
Forsyth-Monroe County Chamber of Commerce
About the application
Welcome to the Forsythia Festival 5K! Races begin and end at FitCo Health Club. On-site registration begins at 7 a.m. The race takes off at 8 a.m. Our 2020 Forsythia 5K Sponsored by Monroe Physical Therapy.
Terms & Conditions
The Forsythia 5K is "rain or shine", no refunds. Applications received after March 1st, 2020 will not guarantee a t-shirt. The price will increase to $25 after March 1st.
Questions on the application
User information
First name
Last name
Email
Gender
Birthday
Address
Additional information
Name
Age on Race Day
Contact Number
Email Address
T-Shirt Size
WAIVER: In consideration of acceptance of this entry, I waive any and all claims for myself and my heirs against officials, sponsors, and volunteers of the Forsythia 5K for injury, illness, which may directly or indirectly result from my participation. I understand the risks for such a run and have trained adequately in preparation. In understand that my name and/or photograph(s) of my participation may be used for promotion and publicity purposes.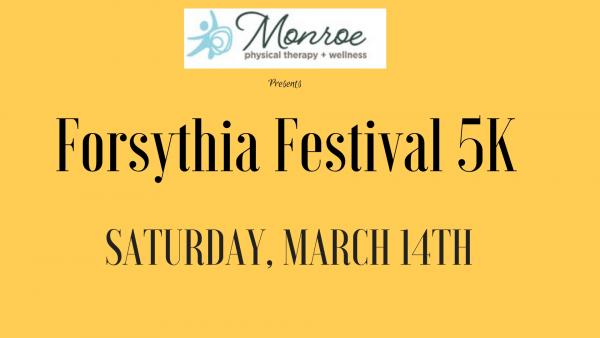 Forsythia Festival 5K
33rd Annual Forsythia Festival
Application is in draft mode by event organizer