Application deadline has passed
MomoCon 2020 Indie Game Awards Showcase
Deadline: Feb 21, 2020 11:00 pm
Date: May 27, 2021 2:00 pm - May 30, 2021 6:00 pm
About the event
MomoCon 2021 will take place May 27th - 30th at the Georgia World Congress Center (GWCC) in Downtown Atlanta Georgia. Focused on animation, gaming, and comics we expect more than 40,000 unique attendance for our 16th year.

MomoCon LLC
About the application
In order to submit your game, payment of $50 USD is required. Final entry will be February 20th, with the 20 finalists selected and notified by March 20th. You will have the option to edit your submission all the way until final judging begins on February 20th. Prior to the convention, 20 finalists will be selected from the pool of submissions. The 20 finalists will be provided with...
+ More
Terms & Conditions
Basic eligibility rules including: -Games published by major studios (EA, Activitision, Ubisoft, etc) are not eligible to enter. -VR games will not be able to be judged at this time. -Games that were winners at a previous MomoCon Indie Award Showcase are not eligible, but finalists that did not win are welcome to enter again. -Games must be in a playable state, and our judges must be...
+ More
| | | |
| --- | --- | --- |
| MomoCon 2020 Indie Game Awards Submission | $50 | |
Questions on the application
User information
First name
Last name
Email
Additional information
Game Title
Studio Name
Studio HQ Location
How many years has the studio been around?
Has your studio ever worked with a publisher for your games?
If you worked with a publisher, who?
Game Synopsis
Game Video Trailer URL
Game Platform (check all that apply)
Has this game been released publicly?
If it has been released, when was it released?
Did you work with a video game publisher for this game?
If you worked with a publisher on this game, who?
Does this game require a controller?
Access Key #1
Access Key #2
Access Key #3
Access Key #4
Access Key #5
Streaming Rights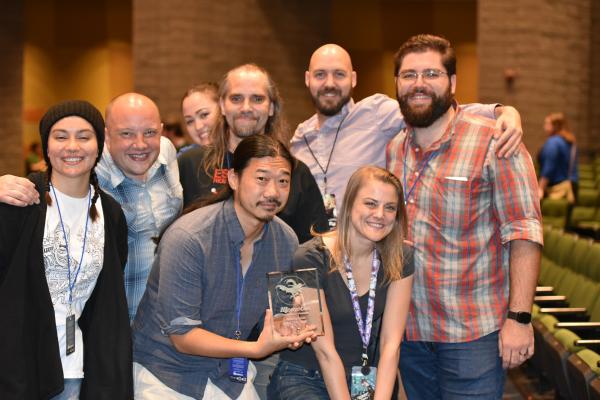 MomoCon 2020 Indie Game Awards Showcase
MomoCon 2021
Application deadline has passed