National Banana Pudding Festival 2021
Deadline: Oct 05, 2021 11:59 pm
Date: Oct 02, 2021 9:00 am - Oct 03, 2021 6:00 pm
About the event
The 2021 festival is October 2-3 at RiverPark in Centerville, Tennessee. The festival features 90+ vendors, offering lots of good southern food and all kinds of craft items. There's a "Little 'Nanner" area with inflatables, petting zoo, pony rides, zero gravity, bucking bull ride, and more. There are 2 stages of live music with great area artists. Come Saturday morning...
+ More
National Banana Pudding Festival Inc.
About the application
Work in your assigned area with guidance of the area supervisor. Attend volunteer meeting September 23 at 6pm at the Emergency Operations Center building at 550 Highway 100, Centerville TN. Questions? Contact Uta Colwell at volunteers@bananapuddingfest.org or call 931-219-7583. YOU MUST SELECT A "DEPARTMENT". IF YOU DON'T KNOW YOUR SHIFT, YOU CAN LEAVE IT BLANK.
Terms & Conditions
Must be 13 or older, ready to work hard. Must love banana pudding (not actually required, but it helps!)
Title
Location
Time
Slots available
Hours
Cook off Committee Members
Farmer's Market Stage
Oct 02, 2021 6:00 am - 2:00 pm
2
8
Cook Off helpers
Farmer's Market Stage
Oct 02, 2021 6:00 am - 2:00 pm
1
8
Hospitality chairperson
Hospitality tent
Oct 02, 2021 6:00 am - Oct 03, 2021 6:00 pm
0
36
Hospitality tent assistants
Hospitality Tent
Oct 02, 2021 6:00 am - Oct 03, 2021 6:00 pm
1
36
Merchandise chairperson
Merchandise tent main entrance
Oct 02, 2021 6:00 am - Oct 03, 2021 6:00 pm
1
36
Parking by JROTC Hickman County High School
Riverpark parking area
Oct 02, 2021 6:00 am - Oct 03, 2021 6:00 pm
28
36
Parking by JROTC Hickman County High School Chairperson
Riverpark parking area
Oct 02, 2021 6:00 am - Oct 03, 2021 6:00 pm
0
36
Puddin' Path Chairperson
Puddin' Path tent
Oct 02, 2021 6:00 am - Nov 03, 2021 6:00 pm
2
780
Puddin' Path committee members
Puddin' Path tent
Oct 02, 2021 6:00 am - Nov 03, 2021 6:00 pm
4
780
Pudding Path assistants
Puddin' Path tent
Oct 02, 2021 6:00 am - 2:00 pm
0
8
Vendors chairperson
Riverpark Vendor areas
Oct 02, 2021 6:00 am - Oct 03, 2021 6:00 pm
0
36
Vendors committee members
Riverpark Vendor areas
Oct 02, 2021 6:00 am - Oct 03, 2021 6:00 pm
3
36
Front Gate chairperson
Riverpark Front Gate
Oct 02, 2021 8:30 am - Oct 03, 2021 6:00 pm
0
34
Front Gate committee member
Riverpark Front Gate
Oct 02, 2021 8:30 am - Oct 03, 2021 6:00 pm
5
34
GENERAL: Saturday 9am - 2pm
Hickman County Ag Pavilion
Oct 02, 2021 8:30 am - 2:00 pm
37
6
Little Nanner's Playground
Little Nanner's play area
Oct 02, 2021 8:30 am - 2:00 pm
2
6
Little Nanner's Playground chairperson
Little Nanner's play area
Oct 02, 2021 8:30 am - Oct 03, 2021 6:00 pm
1
34
Little Nanner's Playground committee members
Little Nanner's play area
Oct 02, 2021 8:30 am - Oct 03, 2021 6:00 pm
4
34
Merchandise Tent assistants
Merchandise tent main entrance
Oct 02, 2021 8:30 am - 2:00 pm
4
6
Pudding Path Food Court assistants
Puddin' Path Food Court
Oct 02, 2021 8:30 am - 2:00 pm
4
6
Vendor area food court assistants
Riverpark Vendor area Food Court
Oct 02, 2021 8:30 am - 2:00 pm
4
6
Vendor area food court chairperson
Riverpark Vendor area Food Court
Oct 02, 2021 8:30 am - Oct 03, 2021 6:00 pm
2
34
volunteer coordinator chairperson
Riverpark volunteer sign in tent
Oct 02, 2021 8:30 am - Oct 03, 2021 6:00 pm
0
34
volunteer coordinator committee members
Riverpark volunteer sign in tent
Oct 02, 2021 8:30 am - Oct 03, 2021 6:00 pm
2
34
GENERAL: Saturday 2pm-6pm
Hickman County Ag Pavilion
Oct 02, 2021 1:30 pm - 6:00 pm
40
5
Little Nanner's Playground
Little Nanner's play area
Oct 02, 2021 1:30 pm - 6:00 pm
3
5
Merchandise Tent assistants
Merchandise tent main entrance
Oct 02, 2021 1:30 pm - 6:00 pm
5
5
Pudding Path assistants
Puddin' Path tent
Oct 02, 2021 1:30 pm - 6:00 pm
4
5
Pudding Path Food Court assistants
Puddin' Path Food Court
Oct 02, 2021 1:30 pm - 6:00 pm
5
5
Vendor area food court assistants
Riverpark Vendor area Food Court
Oct 02, 2021 1:30 pm - 6:00 pm
4
5
Little Nanner's Playground
Little Nanner's play area
Oct 03, 2021 11:00 am - 2:00 pm
5
3
Merchandise Tent assistants
Merchandise tent main entrance
Oct 03, 2021 11:00 am - 2:00 pm
5
3
Pudding Path assistants
Puddin' Path tent
Oct 03, 2021 11:00 am - 2:00 pm
1
3
Pudding Path Food Court assistants
Puddin' Path Food Court
Oct 03, 2021 11:00 am - 2:00 pm
3
3
Vendor area food court assistants
Riverpark Vendor area Food Court
Oct 03, 2021 11:00 am - 2:00 pm
5
3
GENERAL: Sunday 12pm-2pm
Hickman County Ag Pavilion
Oct 03, 2021 11:30 am - 2:00 pm
38
3
GENERAL: Sunday 2pm - 6pm
Hickman County Ag Pavilion
Oct 03, 2021 1:30 pm - 6:00 pm
38
5
Little Nanner's Playground
Little Nanner's play area
Oct 03, 2021 1:30 pm - 6:00 pm
5
5
Merchandise Tent assistants
Merchandise tent main entrance
Oct 03, 2021 1:30 pm - 6:00 pm
3
5
Pudding Path assistants
Puddin' Path tent
Oct 03, 2021 1:30 pm - 6:00 pm
2
5
Pudding Path Food Court assistants
Puddin' Path Food Court
Oct 03, 2021 1:30 pm - 6:00 pm
5
5
Vendor area food court assistants
Riverpark Vendor area Food Court
Oct 03, 2021 1:30 pm - 6:00 pm
4
5
Questions on the application
Volunteer information
Name
Email
Phone
Age
Address
Emergency contacts
T-shirt size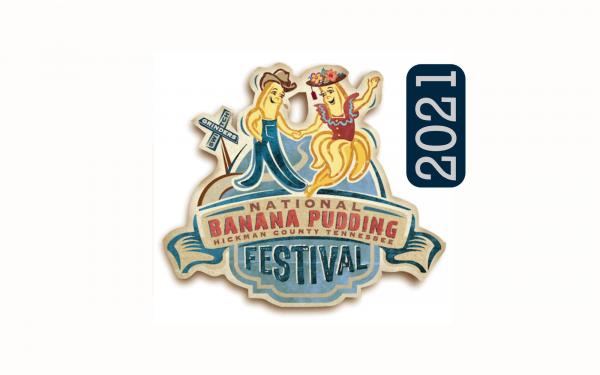 National Banana Pudding Festival 2021
2021 National Banana Pudding Festival