Deadline: May 01, 2021 11:59 pm
Date: May 07, 2021 2:00 pm - May 09, 2021 8:00 pm
About the event
Foley is the spot for high-flying adventure and family fun at the Gulf Coast Hot Air Balloon Festival. Enjoy the entertainment, arts and crafts displays and more at the festival site daily. Balloon flights, glows and tethered rides (weather permitting) add to the fun at dawn and dusk. Please be sure to visit our website, www.gulfcoastballoonfestival.com for the most current information.
South Baldwin Chamber of Commerce
About the application
We are looking for volunteers for our 17th annual Gulf Coast Hot Air Balloon Festival. Positions include bar, souvenir kiosk, VIP tent, and tethered rides.
Terms & Conditions
· I will notify the Event Director no later than 48 hours in advance if I am unable to make my shift. · I understand that I am responsible for my own transportation and time management. · I will arrive 15 minutes prior to my shift · I will represent this event and buy business respectfully and in a professional manner · I will not smoke or consume...
+ More
| Title | Location | Time | Slots available | Hours |
| --- | --- | --- | --- | --- |
| VIP Tent | VIP Tent | May 07, 2021 8:00 am - 12:00 pm | 0 | 4 |
| Bar Tent | OWA | May 07, 2021 10:00 am - 2:00 pm | 21 | 4 |
| Souvenir Kiosk | OWA | May 07, 2021 10:00 am - 2:00 pm | 3 | 4 |
| Bar Tent | OWA | May 07, 2021 11:00 am - 3:00 pm | 32 | 4 |
| VIP Tent | VIP Tent | May 07, 2021 11:00 am - 3:00 pm | 4 | 4 |
| Bar Tent | OWA | May 07, 2021 2:00 - 6:00 pm | 32 | 4 |
| Bar Tent | OWA | May 07, 2021 2:00 - 6:00 pm | 32 | 4 |
| Souvenir Kiosk | OWA | May 07, 2021 2:00 - 6:00 pm | 7 | 4 |
| VIP Tent | VIP Tent | May 07, 2021 2:00 - 6:00 pm | 1 | 4 |
| Bar Tent | OWA | May 07, 2021 6:00 - 10:00 pm | 31 | 4 |
| Souvenir Kiosk | OWA | May 07, 2021 6:00 - 10:00 pm | 8 | 4 |
| VIP Tent | VIP Tent | May 07, 2021 6:00 - 10:00 pm | 3 | 4 |
| Bar Tent | OWA | May 08, 2021 8:00 am - 12:00 pm | 24 | 4 |
| Souvenir Kiosk | OWA | May 08, 2021 8:00 am - 12:00 pm | 5 | 4 |
| VIP Tent | OWA | May 08, 2021 8:00 am - 12:00 pm | 0 | 4 |
| Bar Tent | OWA | May 08, 2021 11:00 am - 3:00 pm | 32 | 4 |
| Souvenir Kiosk | OWA | May 08, 2021 11:00 am - 3:00 pm | 7 | 4 |
| VIP Tent | OWA | May 08, 2021 11:00 am - 3:00 pm | 3 | 4 |
| Bar Tent | OWA | May 08, 2021 2:00 - 6:00 pm | 32 | 4 |
| Souvenir Kiosk | OWA | May 08, 2021 2:00 - 6:00 pm | 8 | 4 |
| Bar Tent | OWA | May 08, 2021 6:00 - 10:00 pm | 31 | 4 |
| Souvenir Kiosk | OWA | May 08, 2021 6:00 - 10:00 pm | 8 | 4 |
| VIP Tent | OWA | May 08, 2021 6:00 - 10:00 pm | 1 | 4 |
| Bar Tent | OWA | May 09, 2021 12:00 - 4:00 pm | 24 | 4 |
| Souvenir Kiosk | OWA | May 09, 2021 12:00 - 4:00 pm | 8 | 4 |
| VIP Tent | OWA | May 09, 2021 12:00 - 4:00 pm | 3 | 4 |
| Bar Tent | OWA | May 09, 2021 4:00 - 8:00 pm | 24 | 4 |
| Souvenir Kiosk | OWA | May 09, 2021 4:00 - 8:00 pm | 8 | 4 |
| VIP Tent | OWA | May 09, 2021 4:00 - 8:00 pm | 4 | 4 |
Questions on the application
Volunteer information
Name
Email
Phone
T-shirt size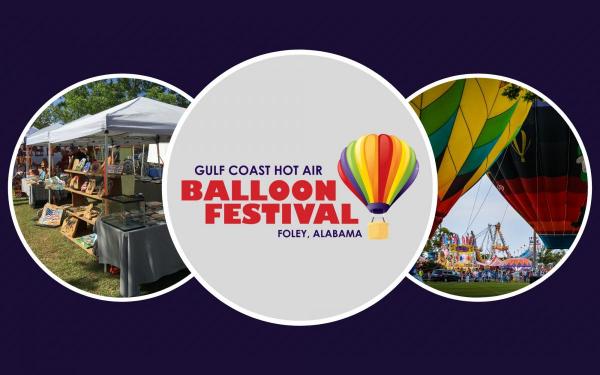 Volunteer Application
17th Annual Gulf Coast Hot Air Balloon Festival