Deadline: Apr 22, 2023 11:59 pm
Date: May 05, 2023 6:00 pm - May 06, 2023 11:45 pm
About the event
A festival celebrating the rich agricultural history of Wallace, North Carolina. Featuring craft and food vendors, a beer and wine garden, a new and antique fire truck show, antique tractors, a BBQ contest, rides, dinosaurs, bands, a beauty queen contest, and of course strawberries!!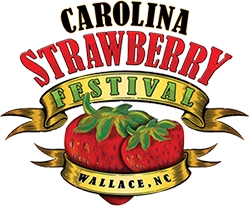 Carolina Strawberry Festival
About the application
The Strawberry Festival is successful because of its volunteers. Please consider giving an hour or two, maybe more, to help make our festival awesome.
Terms & Conditions
Applicants will be notified upon approval. Volunteers will check-in with the volunteer coordinator upon arrival to the festival.
Questions on the application
Volunteer information
Name
Email
Phone
Age
Address
Emergency contacts
T-shirt size