N.C. Pickle Festival Volunteer Application
Deadline: Mar 01, 2020 5:00 pm
Date: Apr 24, 2021 9:00 am - Apr 24, 2021 6:00 pm
About the event
Each year in April, Mount Olive the community and Mt.Olive the company come together to celebrate a dill-lightful relationship. The Award-winning North Carolina Pickle Festival is a fun, family-friendly event that kicks off on Friday night and runs all day Saturday in downtown Mount Olive. The festival boasts three stages of live music, classic cars and antique tractors, free pickles, pickle...
+ More
North Carolina Pickle Festival, Inc.
About the application
The N.C. Pickle Festival is in need of a few really good volunteers…Okay, more than a few. It takes a lot of good people to make a great festival like this happen each year. We have a number of volunteer positions available, and you can see a sample list below. These positions, and others, will be assigned by the Volunteer Coordinator on an "as needed" basis when...
+ More
| Title | Location | Time | Slots available | Hours |
| --- | --- | --- | --- | --- |
| Morning Shift | Mount Olive Area Chamber of Commerce | Apr 25, 2020 6:00 am - 12:00 pm | 50 | 6 |
| Afternoon Shift | Mount Olive Area Chamber of Commerce | Apr 25, 2020 12:00 - 6:00 pm | 50 | 6 |
Questions on the application
Volunteer information
Name
Email
Phone
Gender
Age
Address
Emergency contacts
T-shirt size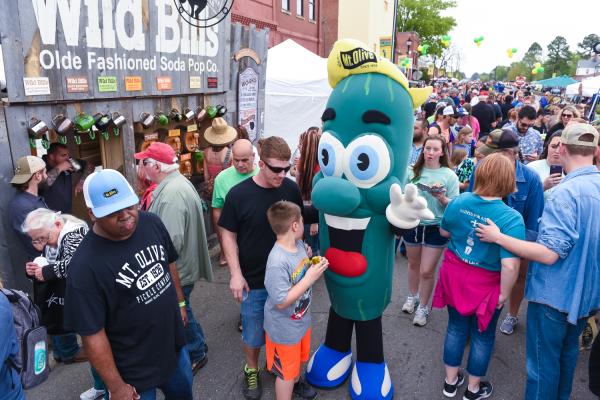 N.C. Pickle Festival Volunteer Application
North Carolina Pickle Festival