12th Annual Juneteenth NY - In - Person Volunteering
Deadline: Jun 11, 2021 11:59 pm
Date: Jun 18, 2021 3:00 pm - Jun 20, 2021 11:59 pm
About the event
Juneteenth is the oldest, nationally celebrated commemoration of the ending of slavery in the United States of America. Two and a half years after the 16th President of the United States, Abraham Lincoln, delivered the Emancipation Proclamation, where Black people were considered free and delivered from enslavement. With over 12 years of this anticipated commemoration. Our annual...
+ More
Umoja Events
About the application
We are looking for people to assist with this amazing festival in Brooklyn. Assistance can look like the following: 1. Helping to prep the park for attendees 2. Assist vendors when they come to set up their tables. 3. Maintaining the park 4. Maintaining the bathroom areas 5. Media support : Getting them some water, making sure they know where things are happening 6. Break down and clean up
Terms & Conditions
Everyone is responsible to share their limitations please do not make assumptions that we are able to manage your needs.
| Title | Location | Time | Slots available | Hours |
| --- | --- | --- | --- | --- |
| Production Set Up | Herbet Von King Park, Brooklyn, NY, 11234 | Jun 19, 2021 7:00 - 11:00 am | 50 | 4 |
| Morning/Afternoon Crew | Herbet Von King Park, Brooklyn, NY, 11234 | Jun 19, 2021 11:00 am - 3:00 pm | 50 | 4 |
| Evening/Wrap Up Crew | Herbet Von King Park, Brooklyn, NY, 11234 | Jun 19, 2021 3:00 - 7:00 pm | 50 | 4 |
| Clean up/ Load out Crew / Closing Out /Break Down & Cleam Up | Herbet Von King Park, Brooklyn, NY, 11234 | Jun 19, 2021 7:00 - 11:00 pm | 50 | 4 |
Questions on the application
Volunteer information
Name
Email
Phone
Gender
Age
Emergency contacts
Picture
T-shirt size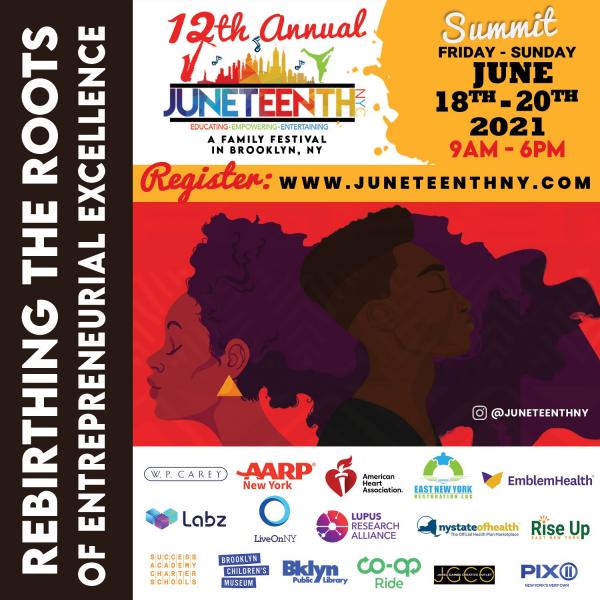 12th Annual Juneteenth NY - In - Person Volunteering
12th Annual Juneteenth NYC Family Festival Hybrid (In-person and Virtual)