Application deadline has passed
(Cancelled due to COVID-19) 2020 Artists Market
Deadline: Aug 28, 2020 11:00 pm
Date: Nov 06, 2020 4:00 pm - Nov 08, 2020 4:00 pm
About the event
Voted Best Festival in the Southeast A coastal favorite, the Jekyll Island Shrimp and Grits Festival combines the classic southern dish with family-friendly entertainment, artists market, live music, kids' zone, food, a craft brew fest, and more. Mark your calendars for this award-winning three-day event held the first weekend in November in the Historic District of Jekyll Island,...
+ More
Jekyll Island Authority
About the application
Requirements: Images: 5 (a booth shot is required) Non-refundable application fee: $35.00 All vendors are required to use only white tents. Please thoroughly read over the entire Artists Market Application Rules and Regulations (attachment below), before filling out and submitting an application. A submitted application constitutes a contract to follow those rules and regulations and...
+ More
Terms & Conditions
A vendor understands that the space size they lease shall accommodate their unit, including any hitch and awnings and that they will be charged for additional space should they go over their designated area. Space is limited, and all equipment, supplies, and displays must be located within the dimensions of the designated space. The overall appearance of the vendor's vending area, as well...
+ More
| | | |
| --- | --- | --- |
| Non-refundable Application Fee | $35 | |
| Early Load-in Thursday, November 5 | $55 | |
| 10'x11' Red Zone Booth | $320 | |
| 10'x21' Red Zone Booth | $600 | |
| 10'x11' Blue Zone Booth | $280 | |
| 10'x21' Blue Zone Booth | $480 | |
| 10'x11' Yellow Zone Booth | $240 | |
| 10'x21' Yellow Zone Booth | $440 | |
Questions on the application
Business information
Business name
Legal business name
Contact name
Address
Email
Phone
Website (Optional)
Logo (Optional)
Additional information
How did you hear about us?
Choose your discipline
I agree to follow the application rules, regulations and accept Festival terms stated in Step one.
I have large items for sale that cannot be carried throughout the festival.
Please select a second option for your booth zone, should your orginal choice become unavailable.
Picture requirements
Minimum pictures required: 5
In order for the artist application to be considered and reviewed by the festival committee, the artist must have all of the following: Three (3) photos of the artist's product. One (1) photo of the artist creating their product. One (1) photo of the artists' booth. This shot must be of the overall setup/outside appearance of the booth as it will be at our festival.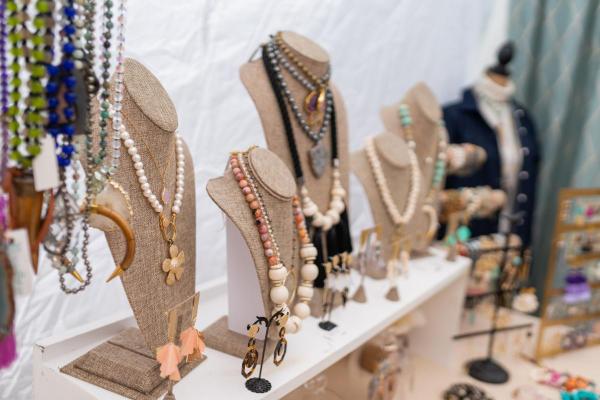 (Cancelled due to COVID-19) 2020 Artists Market
2020 Jekyll Island Shrimp & Grits Festival
Application deadline has passed