Application deadline has passed
Zero Waste Foodware Order - Taste of Alpharetta restaurants
Deadline: Mar 20, 2020 11:59 pm
Date: May 07, 2020 5:00 pm - May 07, 2020 10:00 pm
About the event
Taste of Alpharetta has become an annual tradition for festival-goers, families and food connoisseurs. Mark your calendars to dine in Downtown Alpharetta at over 65 local restaurants in one fun night. New this year! Restaurants will choose to participate in one of 2 restaurant areas. a) Participate as a booth in the NEW! Zero Waste compostable area or b) Participate as a booth NOT in...
+ More
City of Alpharetta
About the application
Thank you for signing up for the 2020 Taste of Alpharetta Zero Waste area! We are excited to debut this at the Taste this year and appreciate your innovation and willingness to try something new! We will have additional marketing to promote this area at the Taste. This is a mandatory food-ware order form for Taste of Alpharetta restaurants participating in the new Zero Waste area at the...
+ More
| | | |
| --- | --- | --- |
| Vegware portion cups - 4oz - Case of 2000 | $103 | |
| Vegware cold cups - 9oz - Case of 1000 | $101 | |
| Plantware dinner forks - 7" green - Case of 1000 | $77 | |
| Plantware spoons - 6" green - Case of 1000 | $76 | |
| Plantware knives - 6" green - Case of 1000 | $76 | |
| Sugarcane Small Plates - 6" round - Case of 1000 | $61 | |
| Sugarcane Medium Plates - 10" round - Case of 500 | $104 | |
| Sugarcane Bowls - 8oz coupe - Case of 1800 | $203 | |
| OPTIONAL: Napkins 9x9" 2 Ply - Case of 4000 | $63 | |
Questions on the application
Business information
Business name
Legal business name
Contact name
Address
Email
Phone
Website (Optional)
Logo (Optional)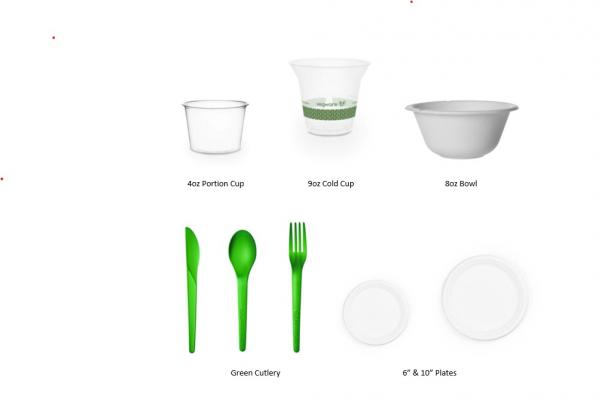 Zero Waste Foodware Order - Taste of Alpharetta restaurants
2020 Taste of Alpharetta
Application deadline has passed