Artist/Vendors - Innovation Square!
Deadline: Oct 14, 2023 11:59 pm (GMT-04:00) Eastern Time (US & Canada)
Date: Apr 15, 2023 10:00 am - Oct 14, 2023 4:00 pm
About the event
Saturday's Weekly April 15th to Oct 14th 2023 10am to 4pm Artists/Vendor fee $65 A curated artists driven marketplace in the heart of downtown Rochester NY, at Innovation Square! A show and sale of art & craftsmanship with an emphasis on original art and hands on craftsmanship A festive market event of the arts, local entrepreneurs sights and sounds, that is sure...
+ More Community First Advertising Group LLC
| | | | |
| --- | --- | --- | --- |
| Artsits Vendor 10x10 | $65 | Non-refundable | |
| Food /Beverage 10x10 Booth | $65 | Non-refundable | Food/Beverage booth 10x10 |
| Food Truck/trailer | $150 | Non-refundable | Food Vendor/truck |
Questions on the application
Business information
Business name
Legal business name
Contact name
Address
Email
Phone
Website (Optional)
Logo (Optional)
Additional information
How did you find out about roc Artist Open Market?
Please describe your work.
Please choose your category:
What are your prices?
Artist/Vendor Description.
I certify that my work is not "Buy-Sell" or Production work and completely made by me.
Do you have a canopy? Canopies with weights are Required.
Facebook Artist or Business Page
Instagram Artist/Business page ( not personal page )
Picture requirements
Minimum pictures required: 15
Image is everything....submit at least 15 color photos of your *Current* works/products, at least one photo of your booth set-up, and at least one photo of you making your items or of your work space. If you want to be well represented in event advertising, submit landscape oriented photos. The better your photos look, the better your application looks, and the better we can present you in advertising you as a participating artist/vendor.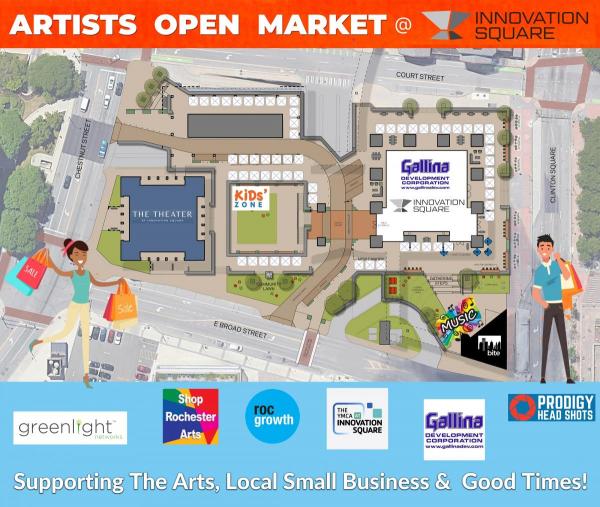 Artist/Vendors - Innovation Square!
Artists Open Market at Innovation Square - Saturday's Weekly April 15th to Oct 14th