Application deadline has passed
Deadline: Mar 20, 2020 5:00 pm
Date: Apr 18, 2020 5:00 pm - Dec 04, 2020 6:30 pm
About the event
The City of Suwanee will be hosting several Food Truck-friendly events in 2020. Most events are at Town Center Park unless otherwise stated. Events are free to attendees, and all events are rain or shine! Application deadline will be March 20, 2020. * Our popular Food Truck Fridays: May 1, June 5, August 7, August 21, September 4, and October 16. Each week will offer a variety of trucks...
+ More

City of Suwanee
About the application
Trucks may apply for any or all dates. Each vendor will be billed once their application is accepted. There is a $20 non-refundable application fee to be considered for any of the dates. The event fee is per event and will be billed at a later date. Most trucks may be selected for one or two of the available dates.
Terms & Conditions
Food Truck Fridays in Suwanee! Rules for trucks: • Application deadline is March 20, 2020. • In order to provide a variety of exciting cuisine for our patrons, truck participation may be limited to 1 or 2 of the available dates. • The mix of trucks for Food Truck Friday events will be 1 or 2 sweets and the remaining spaces will be hot/savory foods. • No-show trucks...
+ More
| | | |
| --- | --- | --- |
| Application fee | $20 | Application fee to be considered as a food vendor for this year's events listed on this page. |
Questions on the application
Business information
Business name
Legal business name
Contact name
Address
Email
Phone
Website (Optional)
Logo (Optional)
Additional information
I have read and understand the terms and conditions for Food Truck Fridays.
Do you want to be considered for "Food Truck Friday?" (Up to 9 trucks may be accepted per date.) Fee will be $100 per accepted date.
Would you like to be considered for other Suwanee events listed below? (A limited number of spaces will be available per date.) Fee will be $75 per accepted date.
Have you participated in Suwanee events previously?
If you have been in Suwanee previously, which events?
Are you a truck or trailer?
Please attach a PDF of your menu.
Please attach a PDF of your current health inspection.
Picture requirements
Minimum pictures required: 1
Include a photo of the truck/trailer. Required.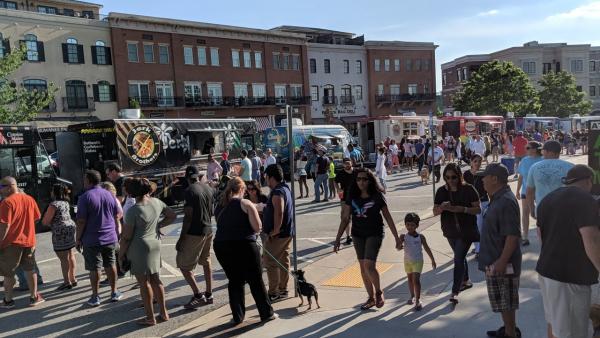 Food Truck Vendor
City of Suwanee 2020 Food Truck Events
Application deadline has passed