Application deadline has passed
2020 Arts & Crafts Application
Deadline: May 31, 2020 11:00 pm
Date: Sep 26, 2020 8:00 am - Sep 27, 2020 5:00 pm
About the event
An award-winning, two-day, family-friendly arts and crafts festival celebrating the spirit of living in Duluth, Georgia! Booths sell everything you can imagine, including: clothing, linens, home decor, furniture, jewelry, toys, food, and more. Sponsors present services for improving your life, home, and family. Events include a parade, a 5K road race, and entertainment on two stages. Separate...
+ More
Duluth Fall Festival, Inc.
About the application
Each year, the Duluth Fall Festival hosts 180+ local and regional artists, featuring everything from paintings and photographs, wood crafts, pottery and glassware, furniture, floral arrangements to decorative accessories, baskets, clothing (for adults, children, dolls and dogs!), jewelry, candles, soap, and more. All merchandise must be created or decorated by the exhibitor. For more...
+ More
Terms & Conditions
Cancellations Before September 1st: will be assessed a $25 Fee. After September 1st: will NOT be refunded. By submitting this application, I acknowledge that I have read and fully understand all the terms and conditions of this application, and I understand that this application creates a binding contract between me, and any entity through which I shall conduct business at the Duluth Fall...
+ More
| | | |
| --- | --- | --- |
| Single Booth (10'x10') | $250 | After June 30th: Refunds are subject to a $25 cancelation fee. After August 31st: No refunds. |
| Double Booth (20'x10') | $500 | After June 30th: Refunds are subject to a $25 cancelation fee. After August 31st: No refunds. Double-booths are available only 2018 vendors that had a double-booth space. |
| Electricity (120volt/15 amp outlet) | $100 | |
Questions on the application
Business information
Business name
Legal business name
Contact name
Address
Email
Phone
Website (Optional)
Logo (Optional)
Additional information
Select the category of your work.
Description of Your Work.
Are all of your products handmade or hand-decorated?
Who created your product?
Have you exhibited at the Festival before?
If yes, how many years have you participated, and when was the last year?
If possible, would you prefer to be in the same area as in the past? (However, due to continual changes to the Festival area, you are not guranteed the same booth space).
Picture requirements
Minimum pictures required: 5
Submit five (5) photos of your work (one showing booth set-up, one of your work in progress, and three of the product you will be selling.)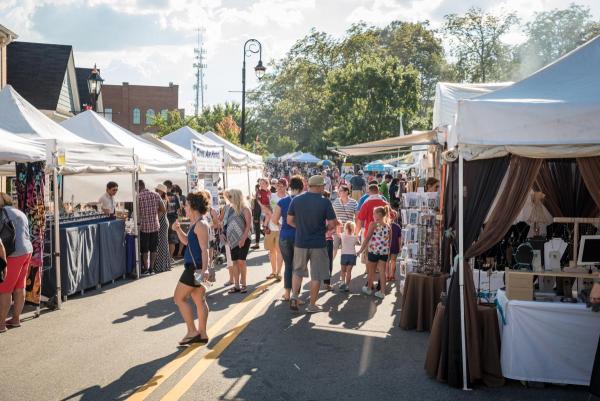 2020 Arts & Crafts Application
Duluth Fall Festival 2020
Application deadline has passed