Application deadline has passed
MomoCon 2022 Artist Alley (Existing Applicant)
Deadline: Dec 15, 2019 9:00 pm (GMT-04:00) Eastern Time (US & Canada)
Date: May 26, 2022 2:00 pm - May 29, 2022 6:00 pm
About the event
MomoCon 2022 will take place May 26th - 29th at the Georgia World Congress Center (GWCC) in Downtown Atlanta Georgia. Focused on animation, gaming, and comics we expect more than 40,000 unique attendance for our 16th year.

MomoCon LLC
About the application
This is the MomoCon 2020 artist alley application. Applying does not guarantee space. All applications will be reviewed and juried between December 15th and January 15th. We will notify people who are accepted into the MomoCon artist alley on or around January 15th, where those accepted will be invited to purchase their booth locations. The MomoCon 2020 artist alley is located in Hall B5 of...
+ More
Terms & Conditions
MomoCon Rules and Regulations MomoCon welcomes all exhibitors who wish to participate in the Exhibitor's Room at MomoCon 2020! The convention is held at the Omni Hotel and Georgia World Congress Center on May 21st - 24th 2020. We ask that all exhibitors please be respectful of decisions that the volunteer staff may have to make concerning the Exhibit Hall the day of the convention. We...
+ More
| | | |
| --- | --- | --- |
| Additional MomoCon Exhibitor Badge | $60 | Each MomoCon Artist Alley comes with 2 Exhibitor Badges. You can purchase an additional for $60. |
Questions on the application
Business information
Business name
Legal business name
Contact name
Address
Email
Phone
Website (Optional)
Logo (Optional)
Additional information
Please provide link(s) to your portfolio with examples of your products or examples of your booth from previous conventions here:
Please provide any social media pages for your studio (e.g. Facebook, Tumblr, DeviantArt):
Please describe the primary type of products you intend to bring to MomoCon 2020.
If you need to give more description of what type of items you are bringing, please list them here.
Have you previously been an artist in the Artist Alley for any conventions prior to Momocon 2020?
Will the booth be shared with another artist/studio?
If sharing, please list the name of the artist or studio you intend to share your space with
I verify that I am atleast 18 years of age or older, or I will have a parent or guardian with me at all times at the booth.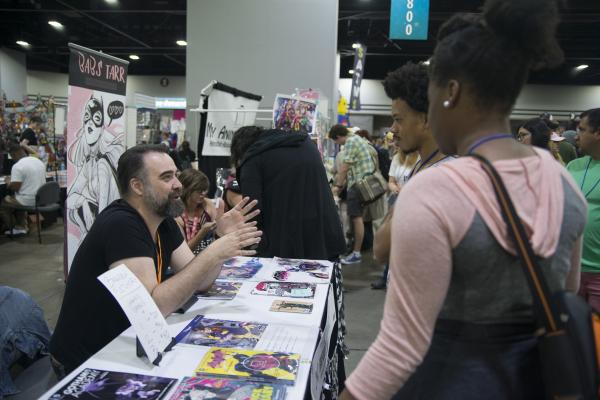 MomoCon 2022 Artist Alley (Existing Applicant)
MomoCon 2022
Application deadline has passed