Application is in draft mode by event organizer
Deadline: Jan 31, 2020 11:59 pm
Date: Aug 28, 2020 2:00 pm - Aug 29, 2020 11:00 pm
About the event
*UPDATE**** After careful consideration, and in light of the increasing number of Coronavirus (COVID-19) cases being reported, the South Baldwin Chamber of Commerce has decided to cancel the 2020 Gulf Coast Hot Air Balloon Festival, presented by OWA. For the health and safety of all, we believe this is the best course of action. All ticket holders will receive a full refund. Please be sure...
+ More
South Baldwin Chamber of Commerce
About the application
We are thrilled that you want to be a part of the 16th Annual Gulf Coast Hot Air Balloon Festival! The 2020 on-site festival dates for vendors are May 1 and 2. Please fill out the form completely and include credit card information. Once you have submitted your completed application, you will be notified by email that it has been received. Your application is then reviewed by the...
+ More
Terms & Conditions
By submitting application, I understand and agree with the rules and regulations that are set forth in this application and agree to abide by and fully comply with said rules. I understand and agree that the South Baldwin Chamber of Commerce and the Gulf Coast Hot Air Balloon Committee are not responsible in any way for damage, loss or theft of me, my firm or of my customers and employees and...
+ More
| | | |
| --- | --- | --- |
| Application fees | $20 | |
| Food Vendor | $600 | |
| Food Vendor Selling Specialty Drinks | SOLD OUT | Food Vendor selling specialty drinks such as, hand squeezed lemonade, topical drinks, sweet tea, etc. |
Questions on the application
Business information
Business name
Legal business name
Contact name
Address
Email
Phone
Website (Optional)
Logo (Optional)
Additional information
I understand that booth location is to be assigned by the Gulf Coast Hot Air Balloon Committee.
I understand vendors must provide our own equipment such as tents, tables,chairs, etc.
I understand that a, day of event, no show/cancel from a vendor will result in being declined in all future South Baldwin Chamber and Foundation events
I understand I am required to operate during the following hours: Friday, August 28 (2:00PM-9:00PM) and Saturday, August 29 (9:00AM-9:00PM).
I understand that vendors are responsible for collecting and reporting Alabama & Baldwin County Sales Tax. The event management will provide information and paperwork at check-in on festival grounds
I understand no refunds will be given to accepted vendors after April 1, or for weather, acts of god, civil disobedience or any circumstance the SBCC deems out of its sole care, custody, or control.
I understand no soft drinks or water is allowed to be sold or given away.
I understand that I will be subject to an inspection by the Foley Fire Department and will not be allowed to operate until I have meet all the requirements set forth by the Foley Fire Department.
What is the measurements, in feet, of your set up. The length and depth measurements must be an accurate measurment of your setup. Please make certain to include the trailer/food truck's tongue is included in your measurements.
Setup Type
Menu
I understand I will receive NO MORE than 50 amps of power. Any vendor caught pulling more power than allotted will not be invited back. Generators are recommend if your power requirements exceed 50 amps.
Picture requirements
Minimum pictures required: 2
Please upload a photo of your merchandise and a photo of your set up. If you are having trouble uploading images, please email directly to kylee@southbaldwinchamber.com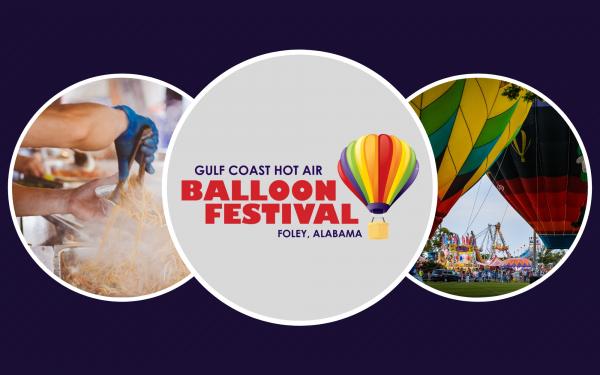 Food Vendor
Gulf Coast Hot Air Balloon Festival
Application is in draft mode by event organizer