Application deadline has passed
Music in the Park Food Vendor
Deadline: Sep 14, 2021 11:59 pm (GMT-04:00) Eastern Time (US & Canada)
Date: Sep 17, 2021 7:00 pm - Sep 17, 2021 9:00 pm
About the event
City of Seminole Music in the Park is a 24 year old series that highlights the best bands of the Tampa Bay area. This year we have 4 weeks of Friday concerts. New this year, we will be highlighting 2 food trucks per night. This series brings in 500-3,000 people per night.
About the application
We will have 4 concerts Please indicate which dates you are available for: September 17; September 24; October 1; October 8.
Terms & Conditions
• Space is Limited. We will be accepting up to 8 varied food vendors for this event • Vendors must be set up between 3:30 pm and 5:00 pm on Friday. • Electrical service will be provided but the vendor must supply all necessary extension cords. Please make sure your electric needs are submitted with this application. • Vendor is responsible for cleanup of his or her...
+ More
| | | |
| --- | --- | --- |
| Food Vendor Fee | $100 | Food vendor fee |
Questions on the application
Business information
Business name
Legal business name
Contact name
Address
Email
Phone
Website (Optional)
Logo (Optional)
Additional information
Food Vendor Waiver Seminole Recreation Center 9100 113th Street North, Seminole, FL 33772 The Vendor agrees to indemnify, save harmless and defend the City, its officials, agents, servants and employees, and each of them against and hold it and them harmless from any and all lawsuits, claims, demands, liabilities, losses and expenses, including court costs and reasonable attorney's fees, for or on account of any injury to any person, or any death at any time resulting from such injury, or any damage to any property, which may arise or which may be alleged to have arisen, whether in whole or in part, out of or in connection with the actions or omissions of the Vendor, the Vendor's agents, subcontractors, delegees, transferees, or assigns, or anyone else for whose acts the Vendor may be liable. Nothing contained herein shall be construed as a waiver of any immunity from or limitation or liability the City may be entitled to under the doctrine of soverei
Dates available
Picture requirements
Minimum pictures required: 3
Please upload a minimum of 1 picture of food booth, truck, or tent, 1 picture of menu with prices, 1 or more picture of food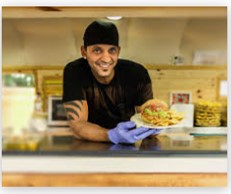 Music in the Park Food Vendor
Music in the Park
Application deadline has passed