Application deadline has passed
AMKE 2022 Artist Application
Deadline: Aug 31, 2021 11:59 pm (GMT-05:00) Central Time (US & Canada)
Date: Feb 11, 2022 9:00 am - Feb 13, 2022 4:00 pm
About the event
Anime Milwaukee (AMKE) is a three-day anime convention that operates at the Hilton Milwaukee City Center and Wisconsin Convention Center in Milwaukee, Wisconsin, with an estimated economic impact of $3.1 million to the downtown area. We celebrate and educate fans about anime, manga, Asian culture, music and gaming. Anime Milwaukee
About the application
Welcome to the Anime Milwaukee! Please look through our application and let us know if you have any questions. This is an electronic agreement and by applying, you are validating and approving this agreement electronically. Artist spaces are juried and notifications will be sent once jurying is complete regarding your application. Artists will have 14 days to respond confirming their...
+ More
Terms & Conditions
Please see the Exhibitor Packet attached to this application for terms and conditions.
| | | |
| --- | --- | --- |
| Single Artist Space | $175 | The standard artist table space will include one 6 foot by 30" table, two chairs, tablecloth, and one artist badge. One additional artist badge may be purchased for $55. |
| Premium Artist Space | $350 | Premium artist table spaces will include two tables on an endcap, two chairs, tablecloths, and two artist badges. Two additional artist badges may be purchased at $55 each. |
| Additional Badges | $55 | Additional badges can be purchased up to a maximum of two for Artist Alley vendors. |
Questions on the application
Business information
Business name
Legal business name
Contact name
Address
Email
Phone
Website (Optional)
Logo (Optional)
Additional information
Artist Description.
Please provide a link to an online portfolio of your work.
What products do you make? What do you intend to sell at Anime Milwaukee?
Please choose your primary medium of art:
What is the approximate percentage of your work based upon original creations, fanart, or other?
Will you be accepting commissions to be completed during AMKE?
Have you been a member of AMKE's Artist Alley before?
What year(s)?
I have read the exhibitors packet and artist alley rules and agree to the expectations set forth in them.
By signing your name, you agree to our terms and conditions.
Picture requirements
Minimum pictures required: 3
Each application must include at least 3 to 5 clear, high quality, color photos of your products, and if purchasing a premium booth space at least one photo of your booth set-up.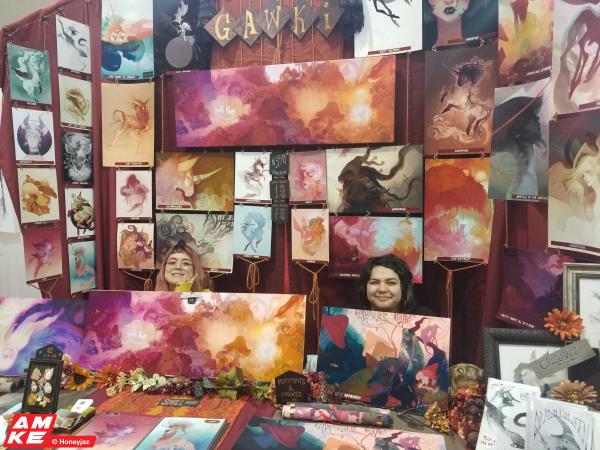 AMKE 2022 Artist Application
Anime Milwaukee 2022
Application deadline has passed