Application deadline has passed
2019 Downtown Connection Application & Agreement
Deadline: Oct 03, 2019 11:59 pm
Date: May 09, 2019 5:00 pm - Oct 10, 2019 9:00 pm
About the event
Alpharetta Food Truck Alley is a local gathering that takes place every Thursday evening, May 9 through October 10 from 5 - 9 PM, on Old Roswell Street. Approximately 5-7 rotating food trucks will roll out amazing eats each week accompanied by live music and seating on the street. Additions to the 2019 Food Truck Alley + Local Connection season will feature fun activations hosted by...
+ More
City of Alpharetta
About the application
APPLICATION FOR DOWNTOWN IN-STORE ACTIVATIONS (NO COST) *We would ideally LOVE to have all applications submitted by March 29 so we can map out the season and help you select the optimal days to run your activation among the other submissions. This year's Food Truck Alley theme is "+ Local Connection" in order to give local businesses an opportunity to share what makes...
+ More
Terms & Conditions
GENERAL INFORMATION & AGREEMENT By reading the below information and submitting this 2019 Downtown Connection Activation Application & Agreement, you are agreeing to abide by all rules and regulations set forth by the event organizers in the 2019 Alpharetta Food Truck Alley and made a part hereof by reference. 1) APPLICATIONS must be submitted at least one week in advance for...
+ More
Questions on the application
Business information
Business name
Legal business name
Contact name
Address
Email
Phone
Website (Optional)
Logo (Optional)
Additional information
Facebook Link/Handle (We will use this to find and share posts you generate about your Local Connection activation and to link back to your business.)
Ad Copy: Describe your activation idea(s) as a headline of 10 words or less.
Please describe the activation(s) you will host during Food Truck Alley. (Please review the deck covering activation ideas by copy and pasting the following link into your browser: http://bit.ly/localXpitch. The following are not considered activations: discounts/coupons, raffles and swag.)
Will you charge for the activation(s)? If so, how much?
How often would you like to offer this activity? (Select all frequencies you'd be willing to operate)
Research Question: If we were to implement an Alpharetta Passport, would you be willing to purchase a stamp of your company logo?
Picture requirements
Minimum pictures required: 2
Please upload 2-3 photos of your activation idea and set up.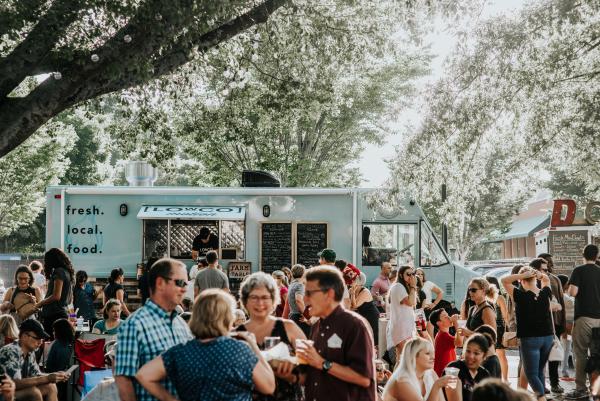 2019 Downtown Connection Application & Agreement
2019 Food Truck Alley + Local Connection
Application deadline has passed