Deadline: Jun 01, 2021 11:59 pm
Date: Oct 16, 2021 9:00 am - Oct 17, 2021 4:00 pm
About the event
Mark your calendars for October 16 and 17, 9:00 am – 5:00 pm Saturday and 9:00 am – 4:00 pm Sunday, rain or shine, to be a part of this soulful and fun connection of art, artists, music, and friends! This two-day festival has been a part of the lives of many collectors and undiscovered artists who are now in textbooks, galleries, and museums, such as the High Museum in Atlanta and...
+ More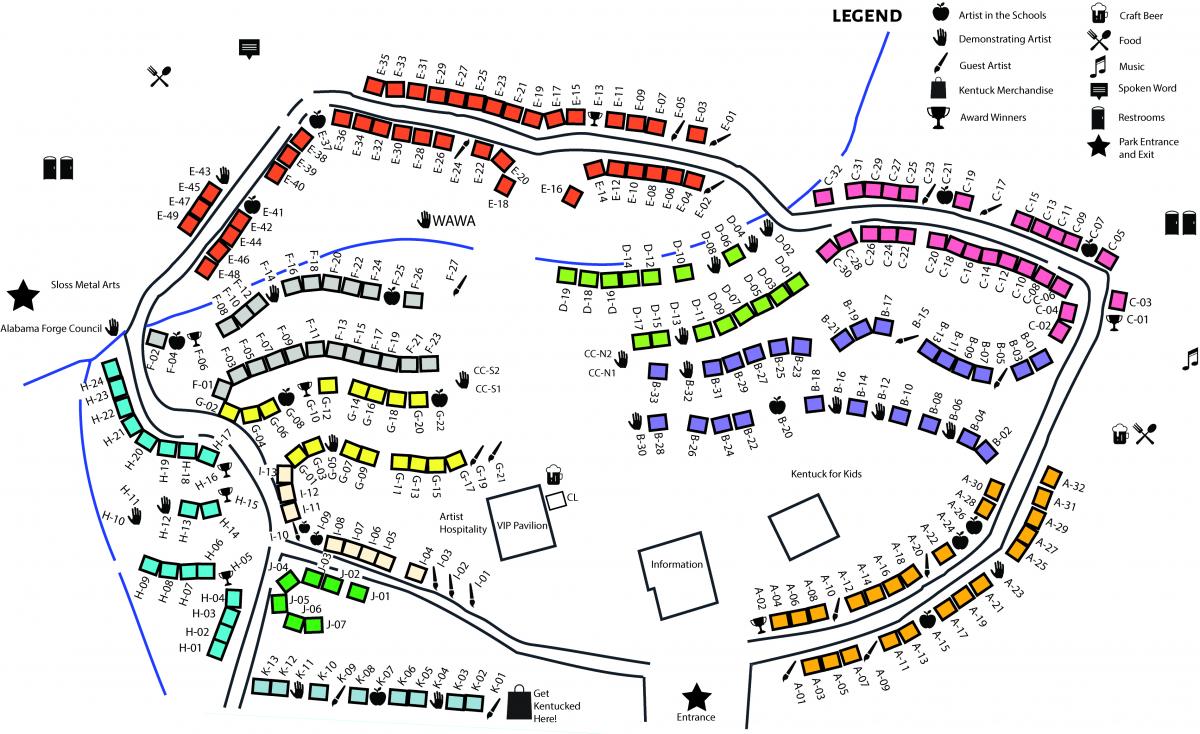 Kentuck Art Center & Festival
About the application
GENERAL INFORMATION Kentuck Festival of the Arts 2021 - 50th Annual Show Dates: 10/16/2021 – 10/17/2021 At Kentuck Park in Northport: 3401 5th Street, Northport, AL $35 Jurying Artist Early Bird Discount Deadline: 5/15/19 midnight CDT $50 Final Application Deadline: 6/1/19 midnight CDT The Kentuck Festival of the Arts and the Kentuck Art Center: The Kentuck Festival of the...
+ More
Terms & Conditions
Artist Selection: Potential exhibitors submit their work to be juried for inclusion in the Kentuck Festival. Exhibitors are selected on the basis of Kentuck's standards of quality, originality, and creativity as interpreted by a jury of visual arts professionals. We have a different panel of jurors every year. The jury process is completely anonymous. Applicants are numerically scored,...
+ More
| | | |
| --- | --- | --- |
| Early Bird Jury Fee | $35 | The jury fee for the Kentuck Festival of the Arts is $35 until May 14th at 11:59 pm, CST. On May 15, 2021, the jury fee will increase to $50. Jury fees are non-refundable, regardless of the eventual scoring outcome. |
Questions on the application
Business information
Business name
Legal business name
Contact name
Address
Email
Phone
Website (Optional)
Logo (Optional)
Additional information
I have read and understand the rules, terms and conditions, and image submission instructions.
Would you like to be a demonstrating artists at the festival?
Are you interested in becoming an artist in the schools?
Do you have an art car that you would like to display on festival grounds?
Name for complimentary Artist Assistant badge
Social Media links
What is your artistic medium?
Artist Statement
Provide a breif description of your materials and techniques.
Picture requirements
Minimum pictures required: 4
1. Submit four professional-quality digital images of your work and a description of your work as specified below. Quality of images can affect acceptance. No artist names and/or trade names should be visible on images. Please blur these out, including your signature on works of art or images of yourself in shots. Please submit technical questions on submitting and preparing digital images to https://www.eventeny.com/about/contact-us/. Examples of good artwork photography can be seen here at juryimage.com, or you can view past artist submissions at issuu.com/kentuckmuseum. 2. For the first three images, fill in the space provided on the application to describe materials, date created, process used, and dimensions. These descriptions will be read during the jury process. After uploading each image you will see an "add info" box below it. You MUST click this box to input the details for each piece of work such as title, date created, price, etc. Without this information, your application will be considered incomplete. 3. Images 1-3 must show the range of the work you will be displaying. 4. Image 4 must represent how your work will be displayed. Applications submitted without a booth display image will be considered incomplete. Remember...The booth shot is the last thing the juror sees before scoring your work. Many artists stage a booth shot, with emphasis on showing off their work more than an actual booth shot taken at a festival might.
Sample of Kentuck Park Festival Layout
This 2019 Festival layout will serve as our template for the 2021 layout. Closer to the Festival in October, Kentuck reserves the right to make any changes needed to adhere to social distancing practices.