Application deadline has passed
Deadline: Jan 22, 2021 8:00 pm
Date: Jan 23, 2021 12:00 am - Jan 31, 2021 11:45 pm
About the event
We are excited to announce that for the first time ever, Pinecrest Gardens will be hosting their Fine Arts Festival online, so that you can attend from the safety of your own home. This two-day event will take you on a journey through many individual galleries of local, regional and international artists. Now is your chance to support the arts and artists in these economically challenging...
+ More
Pinecrest Gardens
About the application
The Pinecrest Gardens Virtual Fine Arts Festival invites you to apply to our event. The festival will be live on January 23 & 24, 2021. There is no application or booth fees! Pinecrest Gardens will charge a 5% commission on all sold items. You will have to register with Eventeny, who will handle online sales for you. When you sell an item with Eventeny, there's a small fee to cover the...
+ More
Terms & Conditions
- All work must be original and executed by the accepted artists. - Only work representative of that submitted and accepted may be exhibited. The Pinecrest Gardens Events Department reserves the right to request removal of any work that differs from that as well as the removal of any inappropriate work or display that does not fit within a family oriented environment. - Artists must comply...
+ More
Questions on the application
Business information
Business name
Legal business name
Contact name
Address
Email
Phone
Website (Optional)
Logo (Optional)
Additional information
Category/Media:
Your social media handles
I certify that my work is not "Buy-Sell" or Production work and completely made by me.
I understand that Pinecrest Gardens will charge 5% commission on all sold items.
Picture requirements
Minimum pictures required: 5
Please upload a minimum of (5) pictures of your artwork.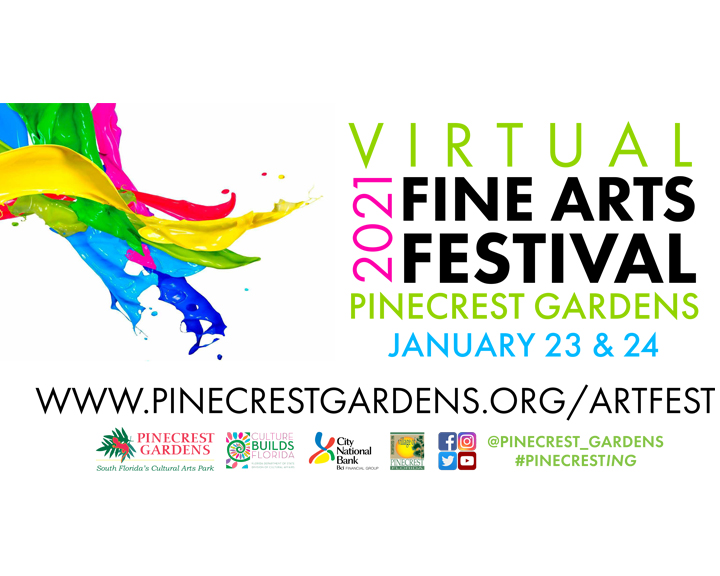 Exhibitor Application
Pinecrest Gardens Virtual Fine Arts Festival
Application deadline has passed