Application deadline has passed
Arts & Crafts Application - Community
Deadline: Feb 20, 2019 10:45 pm
Date: Mar 09, 2019 10:00 am - Mar 10, 2019 5:00 pm
About the event
Two Day Arts & Crafts Festival - Unique Hand Made Arts & Crafts Kick off spring with the Forsythia Festival, held annually the second weekend in March in downtown Forsyth. This free, family-fun event features a two-day arts-and-crafts show, children's fair, a 5K, sporting tournaments, live entertainment, and much more! Enjoy mouth-watering foods, fine arts and crafts, and...
+ More
Forsyth-Monroe County Chamber of Commerce
About the application
The Arts & Crafts Community Application is for handmade and/or unique items that are coming from local vendors who reside in Monroe County. Thank you for your interest in the 32nd Annual Forsythia Festival, March 9-10, 2019. The Forsythia Festival is a fine arts-and-crafts show festival with traditional and contemporary crafts. All items are juried based on their merit to the festival....
+ More
| | | |
| --- | --- | --- |
| Single booth | $170 | 10x10 |
| Outlet rental | $25 | |
Questions on the application
Business information
Business name
Legal business name
Contact name
Address
Email
Phone
Website (Optional)
Logo (Optional)
Additional information
Have you been a vendor at the Forsythia Festival in the past? (list years)
Will you need electricity? (120v)
Will you need water?
Will you be demonstrating your art or craft?
Of the following categories, which best describes your craft?
Jewelers, choose the category that best describes your product:
Vendors may only sell items approved by the Forsythia Festival. List ALL products and prices that will be sold from your booth. Only items listed on this application and those subsequently approved prior to the festival can be sold. This will be monitored. If you violate our approved list, you will be asked to remove items(s). Sales exclusivity does not include the following items: bottled water, sodas, bags of chips, candy bars, and regular French fries (curly fries are exclusive items).
Picture requirements
Minimum pictures required: 4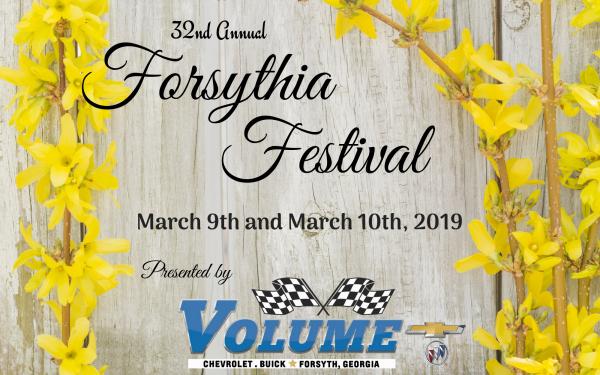 Arts & Crafts Application - Community
Forsythia Festival - Arts & Crafts
Application deadline has passed