Registration deadline has passed
Vendor Registration
Invite only
Sacramento Arts Festival - Live!
Deadline: Sep 30, 2020 11:00 pm
Date: Nov 13, 2020 3:00 am - Dec 31, 2020 11:45 pm
About the event
The 23rd Annual Sacramento Arts--Live! features America's best contemporary craftspeople and fine artists offering thousands of original works. The event has become not only the premier art and craft show in Sacramento, but has also developed into one of the top art festivals in the county. This year's virtual show will be Live! November 13-14-15 from 10am - 4pm. But you can keep...
+ More

American Art Festivals
About the registration
We're presenting the 23rd Annual Sacramento Arts Festival—LIVE! Virtual Marketplace from November 13 – December 31, 2020 With Sacramento Arts Festival—LIVE! Friday, Saturday & Sunday November 13-14-15, 2020 from 10am to 4pm PST each day. Your booth will include: • Your own store where you can upload images of your work along with their prices,...
+ More
Terms & Conditions
2020 SACRAMENTO ARTS FESTIVAL—LIVE! TERMS AND CONDITIONS 1. By submitting this application you, the Exhibitor, are authorizing your virtual booth (your shop) to be part of the Sacramento Arts Festival LIVE! event. Exhibitor agrees to be open and staffed during LIVE hours of 10AM to 4PM Friday, Saturday & Sunday November 13-14-15, 2020. Exhibitor also agrees not to sublet or...
+ More
| | | |
| --- | --- | --- |
| 23rd Annual SACRAMENTO ARTS FESTIVAL - LIVE! | $97 | The $97 fee covers: • All the tech support of setting up & holding the festival on the event platform. • Marketing the Sacramento Arts Festival - LIVE! • Providing you with digital content to send to your customers |
Questions on the registration
Business information
Business name
Legal business name
Contact name
Address
Email
Phone
Website (Optional)
Logo (Optional)
Additional information
Please Indicate the media category (ies) for which you are applying: Limit to 1 or 2 categories
If you checked Other, please describe your medium
Artist Statement: Please describe your process and materials
I have read and agree to the provisions on this application and the 2020 Sacramento Arts Festival Live! Terms and Conditions. Please sign by printing your name.
Picture requirements
Minimum pictures required: 4
Please include 4 pictures of examples of the work you wish to sell at the festival.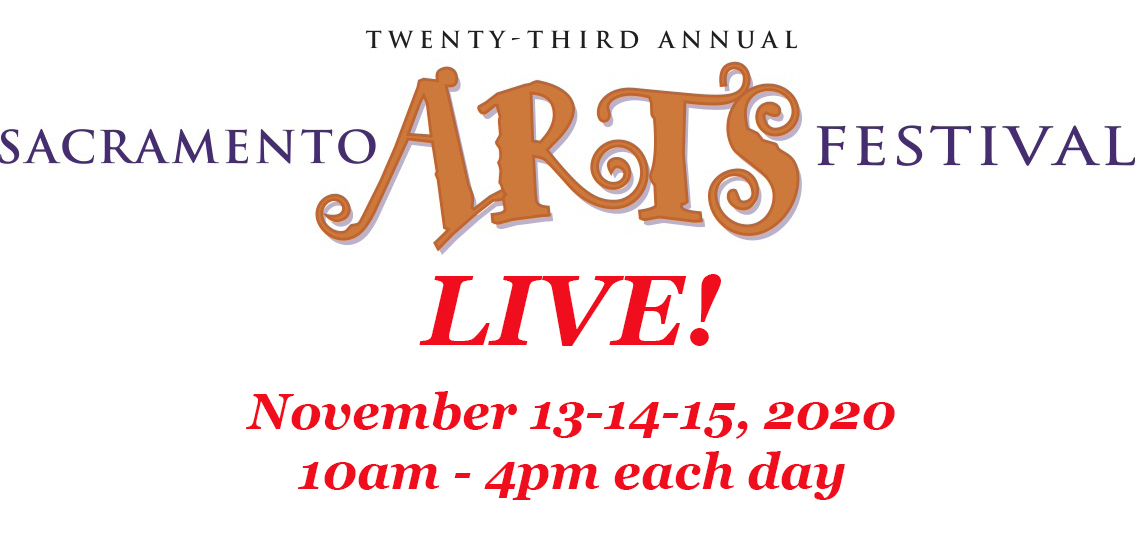 Sacramento Arts Festival - Live!
Sacramento Arts Festival--Live!
Registration deadline has passed