Application in draft mode
N.C. Pickle Festival Sponsorships-2020
Deadline: Mar 15, 2020 5:00 pm
Date: Apr 24, 2021 9:00 am - Apr 24, 2021 6:00 pm
About the event
Each year in April, Mount Olive the community and Mt.Olive the company come together to celebrate a dill-lightful relationship. The Award-winning North Carolina Pickle Festival is a fun, family-friendly event that kicks off on Friday night and runs all day Saturday in downtown Mount Olive. The festival boasts three stages of live music, classic cars and antique tractors, free pickles, pickle...
+ More
North Carolina Pickle Festival, Inc.
About the application
-All local sponsors receive a Proud Sponsor yard sign to display at their business location. -All sponsors will be recognized on the festival website, www.ncpicklefest.org, and will be posted as they are received. So sign up early! -All sponsors will be recognized on print materials and at the N.C. Pickle Festival headquarters on the day of the festival, provided their sponsorships are...
+ More
Terms & Conditions
*Vendor spaces require a completed Sponsor Vendor form, and non-chamber fee may apply. For details and forms, go to www.ncpicklefest.org/vendors.
| | | |
| --- | --- | --- |
| Zesty Kosher Dill | $5,000 | This sponsorship includes a festival yard sign, logo weblink, 2 Free vendor spaces, social media posts, social media posts and blog mentions, logo advertisement t-shirt sleeve, 40 Saturday Hospitality Suite wristbands. |
| Bread & Butter | $2,500 | This sponsorship level includes a festival yard sign, logo weblink, 1 free vendor space, social media posts, social media posts and blog mentions, 10 wristbands for Saturday's Hospitality Suite. |
| King Kosher Dill | $1,000 | This sponsorship includes a festival yard sign, a logo weblink, 1 free vendor space, social media posts and 6 wristband for Saturday's Hospitality Suite. |
| Super Dill | $500 | This sponsorship level includes a yard sign, logo weblink (online/print only), and 4 wristbands for Saturday's Hospitality Suite |
| Sweet Gherkin | $250 | This sponsorship includes a festival yard sign, name on weblink and 2 wristband for Saturday's Hospitality Suite. |
| Sweet Relish | $100 | This sponsorship includes a festival yard sign, name on website and 1 wristband for Saturday's Hospitality Suite. |
Questions on the application
Business information
Business Name
Contact Name
Address
Email
Phone
Website (Optional)
Logo (Optional)
Additional information
FaceBook Address
Instagram Tag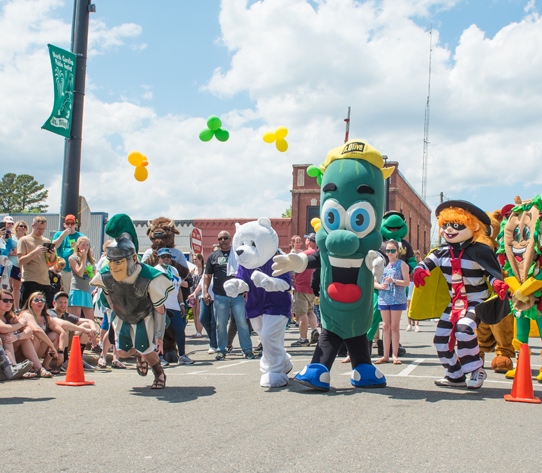 N.C. Pickle Festival Sponsorships-2020
North Carolina Pickle Festival
Application in draft mode