Elfin' Magic (Sponsor Opportunity)
Deadline: Nov 17, 2021 5:00 pm
Date: Dec 04, 2021 6:00 pm - Dec 11, 2021 1:00 pm
About the event
Citrus County Chamber annual Christmas Parades. Two Towns, Two Parades, Two (different) Days, ONE GREAT TIME! Crystal River Parade - Saturday, December 4th | 6:00 p.m. Inverness Parade - Saturday, December 11th | 12:00 p.m. Please note, there are TWO registrations for 2021. Each city has it's own registration. If you are wishing to be in BOTH parades, you will be required to fill...
+ More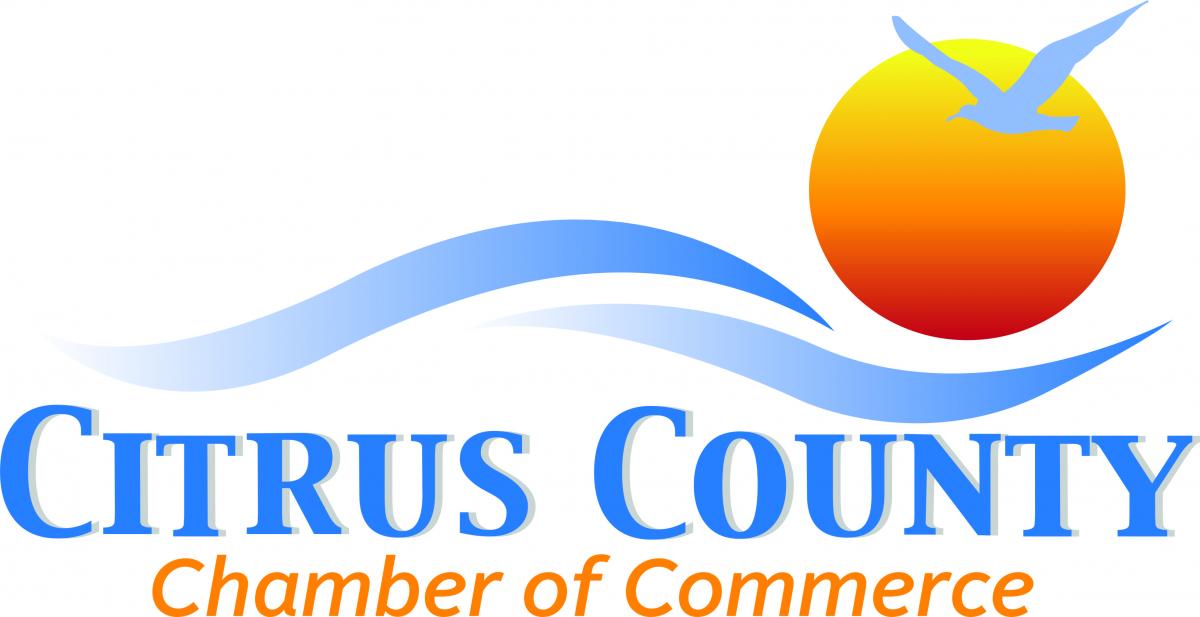 Citrus County Chamber of Commerce
About the application
ELFIN MAGIC!! It takes a little Christmas Magic to produce TWO parades, TWO different days, TWO different Cities.... And a YOUR Elfin Magic creates BOTH Parades!! Saturday, December 4th, 2021 Saturday, December 11th, 2021
| | | |
| --- | --- | --- |
| Elfin Magic | $250 | * Business name listed (on) printed materials * Business name listed (on) The Chamber's event pages, social media platforms * (1) Parade Registration (Both parades) * Invitation to the Parade Award Mixer: Thursday, December 16th, 2021 |
Questions on the application
User information
First name
Last name
Email
Gender
Birthday
Address
Business information
Business name
Legal business name
Contact name
Address
Email
Phone
Website (Optional)
Logo (Optional)
Additional information
Are you a Citrus County Chamber of Commerce member?
Business Name & Address
Contact name, email and cell number for questions regarding the parade, leading up to and day of
Contact name and cell number, day of the event
Will you be "entering" a float and/or vehicle in both parades?
Please provide a brief description of Parade entry (ex: length of float, from the nose of the vehicle pulling, to the end of the trailer?
Please upload website, and/or FB page
Please upload your business logo
I have read the rules and guidelines for the 2021 Christmas in Toyland Crystal River Christmas Parade
Proof of Insurance: Any entry using a vehicle that does not have proof of insurance will not be permitted to participate. Please upload
Disclaimer, Signature REQUIRED to participate in the parade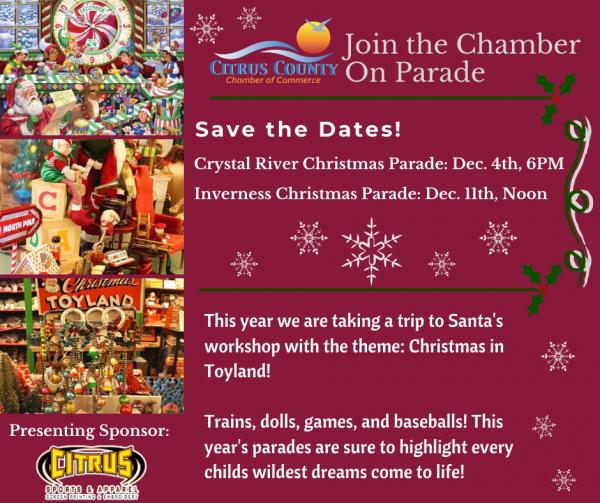 Elfin' Magic (Sponsor Opportunity)
2021 Chamber Christmas Parades "Christmas in Toyland""