Application deadline has passed
2022 Parade Entry Application
Deadline: Dec 01, 2022 10:00 am
Date: Dec 01, 2022 7:00 pm - Dec 01, 2022 9:00 pm
About the event
Join us on Thursday, December 1, 2022 for the BEST nighttime Christmas Parade in Middle Georgia!!
Forsyth-Monroe Chamber of Commerce
About the application
December 1, 2022 7:00 p.m. Hometown Holidays Parade 2022 is themed "Christmas Under the Mistletoe." Sponsored By Forsyth CableNet.
Terms & Conditions
All drivers are required to review a safety presentation that will be sent via email on Monday, November 28, 2022. Please read the following rules and regulations: NO live Santa on floats NO throwing candy - PERIOD! NO sirens during the parade NO texting while driving parade float! No jumping on and off of parade float - walkers walk and riders ride the entire parade route Lineup is...
+ More
| | | |
| --- | --- | --- |
| All entries are required to submit a payment: | $50 | Each float entry is allowed ONE vehicle (with a trailer if applicable). If you'd like to use more than one vehicle to represent your theme or to accommodate participants, there is an additional $15 fee. |
| An additional vehicle to represent your theme or to accommodate participants(optional): | $15 | |
Questions on the application
User information
First name
Last name
Email
Gender
Birthday
Address
Additional information
Contact Person:
Address:
Contact Number:
E-mail:
What kind of unit are you entering into the parade? (Please check one of the following choices.) Each float entry is allowed ONE vehicle (with trailer if applicable).
What category are you entering? (Please check one of the following choices.)
Do you want you unit to be judged? (NOTE: Professional or rented floats are welcome to participate in the parade but will not be included in the judging.)
How many vehicles will you have with your group? What type of unit?
If accommodating pageant winner, please respond with name of pageant and title?
If accommodating walkers/marchers, please respond with number of walkers/marchers:
If accommodating band, please respond with how many will be marching?
If accomodating animals, please respond with type of animal and how many:
Please write a short description about your company or organization to help our announcers talk about your entry.
Our insurance requires us to have names of all the participants riding, carrying, walking, etc. This includes all persons riding on a float, carrying a banner, or participating in any way. Please list below:
Name(s) of driver of car, float, tractor, etc.:
Name of person responsible for your kids at drop-off area:
Phone number of person responsible for kids drop-off area:
All drivers and a representative for your kids drop off area MUST review the safety presentation please provide contact information(phone number and email) for scheduling:
As the appointed representative of the above names entity, I hereby release the Forsyth-Monroe Chamber of Commerce from liability, either direct or implied, from any accidents or damages that might occur. (sign below)
We understand and agree that the Forsyth-Monroe Chamber of Commerce has the right to refuse any entry from the parade for any inappropriate display or behavior by any participant and agree to abide by all rules. (sign below)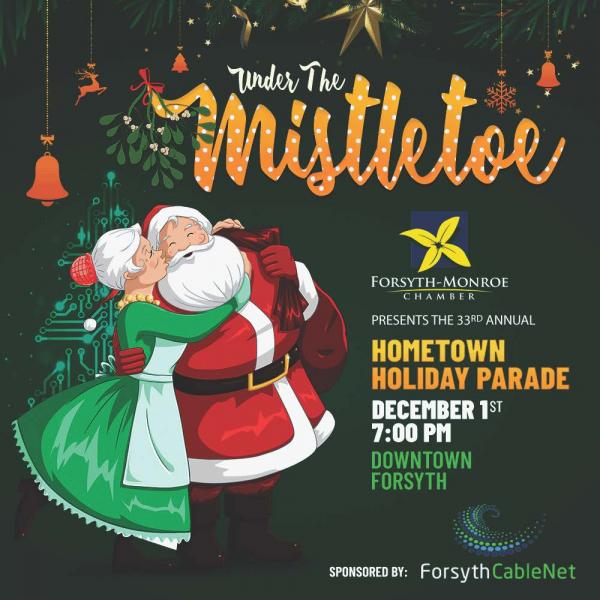 2022 Parade Entry Application
Hometown Holidays Parade 2022
Application deadline has passed