Arts & Crafts, Direct Sales & Corporation Vendor
Deadline: Jan 31, 2020 11:59 pm
Date: May 01, 2020 2:00 pm - May 02, 2020 11:00 pm
About the event
Foley is the spot for high-flying adventure and family fun at the Gulf Coast Hot Air Balloon Festival. Enjoy the entertainment, arts and crafts displays and more at the festival site daily. Balloon flights, glows and tethered rides (weather permitting) add to the fun at dawn and dusk.
South Baldwin Chamber of Commerce
About the application
We are thrilled that you want to be a part of the 16th Annual Gulf Coast Hot Air Balloon Festival! The 2020 on-site festival dates for vendors are May 1 and 2. Please fill out the form completely and include credit card information. Once you have submitted your completed application, you will be notified by email that it has been received. Your application is then reviewed by the...
+ More
Terms & Conditions
By submitting application, I understand and agree with the rules and regulations that are set forth in this application and agree to abide by and fully comply with said rules. I understand and agree that the South Baldwin Chamber of Commerce and the Gulf Coast Hot Air Balloon Committee are not responsible in any way for damage, loss or theft of me, my firm or of my customers and employees and...
+ More
| | | |
| --- | --- | --- |
| Arts & Crafts | $125 | 80% of merchandise is handmade and not commercially produced. Examples of these items include: handmade jewelry, pottery, painting, photographs, drawings, soaps, woodcrafts, metal work, glass, handmade clothing, etc. |
| Direct Sales Vendor | $300 | As a Direct Sales vendor your product consists of items that are artistically enhanced, not 100% made by the vendor and/or retail items. Examples of these items include brand names, such as Scentsy, LulaRoe, Young Living, Lilla Rose, Pampered Chef, Paparazzi, etc. It also includes items such as retail clothing and jewelry, embellished accessories, antiques and anything considered "resale". |
| Commercial/Promotional Vendor | $450 | The corporate category consists of businesses who wish to attend on a promotional basis. Examples of these businesses include: cell phone providers, insurance providers, home improvement companies, healthcare / fitness companies, timeshare / vacation rentals, etc. |
| Application fees | $20 | |
Questions on the application
Business information
Business Name
Contact Name
Address
Email
Phone
Website (Optional)
Logo (Optional)
Additional information
I understand that booth location is to be assigned by the Gulf Coast Hot Air Balloon Committee.
I understand vendors must provide our own equipment such as tents, tables,chairs, etc.
I understand that a, day of event, no show/cancel from a vendor will result in being declined in all future South Baldwin Chamber and Foundation events
I understand I am required to operate during the following hours: Friday, May 3 (2:00PM-9:00PM) and Saturday, May 4 (9:00AM-9:00PM).
I understand that vendors are responsible for collecting and reporting Alabama & Baldwin County Sales Tax. The event management will provide information and paperwork at check-in on festival grounds
I understand pamphleteering is prohibited.
I understand no refunds will be given to accepted vendors after April 1, or for weather, acts of god, civil disobedience or any circumstance the SBCC deems out of its sole care, custody, or control.
80% of merchandise is is handmade and not commercially produced
Please select the category in which your product best fits.
Picture requirements
Minimum pictures required: 2
Please upload a photo of your merchandise and a photo of your set up. If you are having trouble uploading images, please email directly to kylee@southbaldwinchamber.com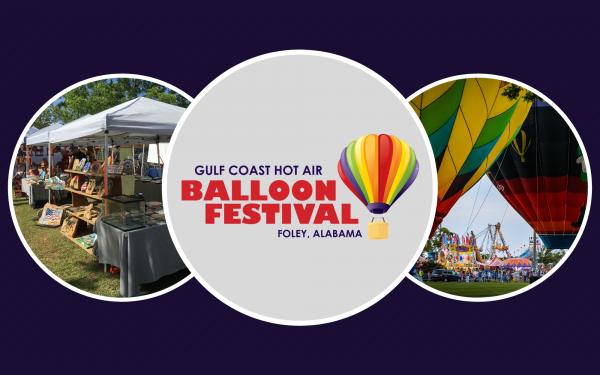 Arts & Crafts, Direct Sales & Corporation Vendor
Gulf Coast Hot Air Balloon Festival