Entertainment - The Main Stage
Deadline: Jan 31, 2022 11:59 pm (GMT-04:00) Eastern Time (US & Canada)
Date: Apr 23, 2022 10:00 am - Apr 24, 2022 4:00 pm
About the event
The 22nd Annual Chain of Parks Art Festival is North Florida's premiere outdoor fine art festival. Located in downtown Tallahassee along Park Avenue, the festival provides an opportunity for art lovers and artists to connect over the weekend. Expect to have a first-class, fun-filled outdoor cultural experience. View amazing, original, and one-of-a-kind works of art from 150 fine...
+ More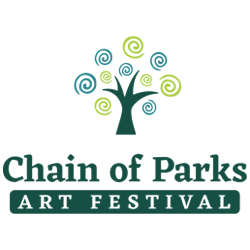 Chain of Parks Art Festival
About the application
Our Main Stage is located in the Center Court on Calhoun and features a variety of local bands and aspiring singer/songwriters along with crowd-pleasing local performing arts groups. Pop-up performances can be seen throughout the festival, mainly in the children's area called "The Village" to keeping everyone entertained all weekend. The festival welcomes performers to apply...
+ More
Terms & Conditions
2022 GENERAL RELEASE OF CLAIMS & HOLD HARMLESS AGREEMENT LEMOYNE ART FOUNDATION, INC. does NOT provide liability insurance for the protection of persons, vendors, entertainers, merchants, organizations, spectators or others who participate in any LEMOYNE ART FOUNDATION, INC. event. In consideration of participating in the Chain of Parks Art Festival, I do hereby release and forever...
+ More
Questions on the application
Business information
Business name
Legal business name
Contact name
Address
Email
Phone
Website (Optional)
Logo (Optional)
Additional information
Social Media handles/ tags
Please provide a brief description of your group to be used for Marketing Purposes:
Our group/troupe is considered mostly:
Our group/band performs mostly this type of music:
Preferred Date/Time to Perform: Check all that apply
What is your preferred/typical 'set' length?
How long is your equipment setup time?
Number of Vocal Microphones Needed (or NA)
Number of Instrument Microphones (or NA)
Number of Direct Inputs? (or NA)
Special Needs / Requests:
GENERAL RELEASE OF CLAIMS & HOLD HARMLESS AGREEMENT
Agreeing to the Terms & Conditions
Picture requirements
Minimum pictures required: 1
Please provide a high-resolution photo or logo for us to use in our marketing efforts. Please do not submit a poster with copy on it (outside of your logo).