Festival of Nations
event
Oct 17 9:00 am - Mar 04 10:00 pm


(GMT-04:00) Eastern Time (US & Canada)
label
Virtual
---
event
Dates
Oct 17 9:00 am - Mar 04 10:00 pm
(GMT-04:00) Eastern Time (US & Canada)
---
You are invited to explore the many international connections of Durham, North Carolina. Durham has 9 Sister Cities on almost every continent, plus there are 18 other nations represented in Durham with restaurants and other businesses. Join us in this celebration of cultures from around the World
---
---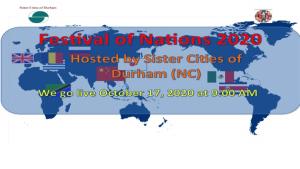 Support Sister Cities of Durham, Inc.
Last day to contribute: Nov 30, 2021
One of our main activities is to create student/teacher/professional exchanges. The greatest expense is travel. Lodging/food/local travel is usually covered by the hosts. Your tax-deductible contribution will help us expand this effort. Know that people who visit other countries on a personal and local level, can develop lifelong friendships. This is part of our Mission and your help is greatly...
+ More
---
5 artists, shops & exhibitors
alarm_off
The marketplace is not available because the event has ended.
---
alarm_off
The video section is not available because the event has ended.
---
event
3 events
location_on
Durham, North Carolina, United States
Engage members of Durham's diverse community to promote international friendship, intercultural understanding, and economic development through Sister Cities programs and relationships.
---